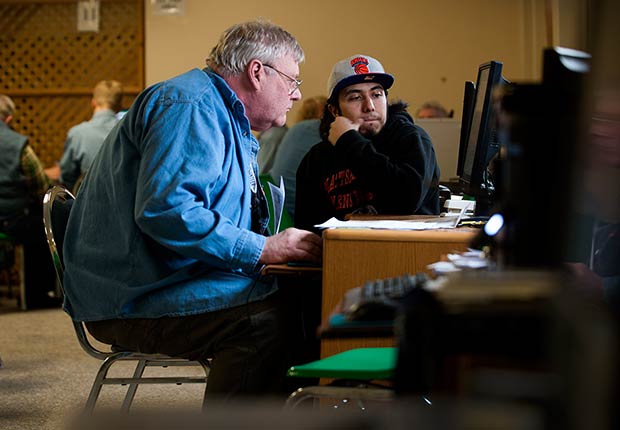 Por Donna Liquori

En la zona North Country de Nueva York, en un centro para adultos mayores en Plattsburgh, el programa Tax-Aide de AARP Foundation atrae a muchas personas que desean presentar su declaración de impuestos temprano —y de manera gratuita—, para recibir un reembolso que compense los gastos de las fiestas de diciembre y las cuentas de servicios públicos.

Sin embargo, a algunos les cuesta trabajo salir de la casa. Este es el tipo de situación en la que interviene Harold Vogel. Cuando no se encuentra en el centro en Plattsburgh, este voluntario cruza las montañas de Adirondack para preparar las declaraciones de impuestos de las personas confinadas en sus hogares.

Vogel, de 68 años, un preparador profesional de declaraciones de impuestos que ha sido voluntario del programa desde 1983, explicó que como no tiene una oficina, los clientes que le pagan van a su hogar o él va al de ellos, lo cual a veces requiere conducir por los bosques.

"Las personas tienen problemas de salud y situaciones difíciles", dijo. "Ayudarlas te hace sentir bien".

Cuando Vogel se encuentra en el local de Tax-Aide en Plattsburgh, lo llaman el gurú de los impuestos, pues responde las preguntas de otros voluntarios, según Kaye Curry. Ella supervisa la oficina de Tax-Aide en Plattsburgh, ubicada en el Senior Citizens Council of Clinton County, la cual abrió en enero, antes que la mayoría de los locales en todo el país, debido a que hay tanta necesidad.

"Quienes realmente necesitan nuestros servicios necesitan su reembolso de inmediato. Estamos en una zona rural, y hay más pobreza aquí arriba que en otros condados", dijo Curry. Ella trabaja con un equipo de 70 miembros compuesto de voluntarios y pasantes de contabilidad de la State University of New York Plattsburgh, quienes procesan cerca de 150 declaraciones al día.

"Lo que recibimos de esto es una profunda satisfacción de que estamos haciendo algo que ayuda a un gran porcentaje de nuestra comunidad", dijo Curry.

A Ed Broderick, de 73 años, un preparador voluntario y excoordinador estatal, le pagan con galletas y abrazos, y lo llama el mejor trabajo que ha tenido.

Como coordinador estatal, el empleado de IBM jubilado supervisó un equipo de más de 700 voluntarios, entre ellos Curry y Vogel.



Ayuda para los adultos mayores

Tax-Aide presta servicio a cerca de 2.6 millones de contribuyentes al año en todo el país. Su enfoque es ayudar a personas de 50 años o más y a aquellos de ingresos bajos y medios, pero está disponible para todos.

"La gran mayoría lo agradecen mucho, porque eliminamos lo que los enloquece: el miedo al IRS y a los impuestos", dijo Broderick, quien trabaja desde la biblioteca Howland en Beacon, uno de los locales de Tax-Aide en el valle del Hudson.

"Yo digo: 'Tranquilo, en una hora saldrás de aquí y tendrás arreglados todos tus problemas. Y de paso, no te costará ni un centavo'", dijo.

Broderick dijo que los voluntarios también trabajan con clientes a quienes les cuesta trabajo entender el inglés, y a menudo proporcionan un intérprete.

El año pasado, desde zonas rurales hasta ciudades grandes, más de 1,800 voluntarios de Tax-Aide certificados por el IRS (Servicio de Impuestos Internos) ayudaron a casi 132,000 neoyorquinos con su declaración de impuestos en 362 locales. El resultado: más de $70 millones en reembolsos, según AARP Foundation.

En un caso, Broderick descubrió que una contribuyente no había recibido los reembolsos de varios años. La mujer, que trabajaba dando la bienvenida a los clientes en Walmart, creía que le debían unos cuantos cientos de dólares. Broderick le obtuvo $27,000.

"Déjame decirte, el plato de galletas que apareció el próximo día, y el siguiente, y el siguiente", dijo con un gran sonrisa.

También recordó la pareja que descubrió que estaba exenta de una multa por retiro prematuro de una cuenta personal de jubilación. Broderick les informó que en vez de eso, recibirían un reembolso de $4,000. "Él comenzó a llorar", recordó Broderick. "Ella se deshizo en lágrimas".

La mujer le dijo a Broderick: "Ed, no sabes, con este dinero puedo volver a conectarle la electricidad a mi hija, a quien se la cortaron la semana pasada. Ahora puedo comprarle un abrigo invernal a mi nieta, porque no tiene uno y se está congelando. Y puedo comprarle botas a mi nieto de 5 años".

Para encontrar un local cercano de Tax-Aide, visita aarp.org/findtaxhelp (en inglés) o llama gratis al 888-227-7669. Para saber qué documentos llevar a tu cita, visita aarp.org/taxdocs (en inglés).

Lee más sobre cómo manejar mejor tus finanzas en nuestro canal de Dinero.