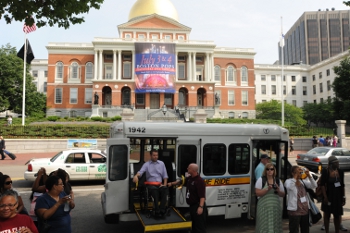 Drop in Fare Will Benefit Seniors, Those with Disabilities
In a reversal that will directly benefit seniors and those with disabilities, the MBTA and the Department of Transportation today recommended a fare reduction for The RIDE, which, if approved, will reduce fares from $4 to $3 per ride.

At today's meeting of the Massachusetts Department of Transportation Standing Committees on Finance and Audit, Massachusetts Department of Transportation Secretary Richard Davey and MBTA General Manager Beverly Scott made the recommendation.

AARP Massachusetts commends Secretary Davey and General Manager Beverly Scott for this proposal to reduce the fares for The RIDE, and we urge the MBTA Board to take final action and accept this recommendation.

"The collective voices of those who are dependent on affordable, accessible public transportation were heard loud and clear," said Michael E. Festa, state director, AARP Massachusetts, "and we are grateful that Secretary Davey and General Manager Scott recognized the unintended consequences of the doubling of fares, and did the right thing in making this important recommendation to reduce fares for The RIDE."

This decision will help seniors and those with disabilities who rely on The RIDE as their main source of transportation. We also look forward to working with the MBTA and stakeholders to make additional improvements for the people who rely on this transportation service to remain healthy and independent.

In July 2012, despite outcry from AARP Massachusetts and other organizations that advocate for seniors and those with disabilities, the MBTA increased fees for The RIDE, doubling fares from $2 to $4. Seniors, those with disabilities, students—those with low incomes—were hit hardest by the MBTA fare hikes, some of which increased by 150 percent.

AARP Massachusetts and others had urged the MBTA Board to reject the fare increases that hurt those most in need. Seniors and disabled persons who rely on The T and The RIDE as their only source of transportation count on these services to see doctors, attend faith services, shop for groceries —in general, to stay healthy and independent.

Today's announcement from the MBTA comes after the transportation agency realized a ride drop off rate of 18.9 percent after the fare hikes. MBTA staff indicated they'd anticipated a 10 percent drop off rate for ridership.