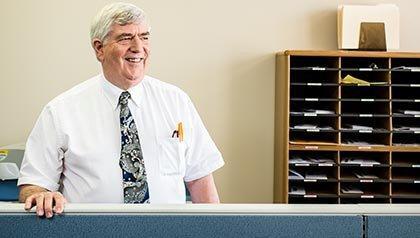 Bresnahan to testify on Minimum Wage Bill, HB 295
FOR IMMEDIATE RELEASE
FOR INTERVIEW, CONTACT: Tammy Bresnahan: (410) 302-8451 or tbresnahan@aarp.org
Baltimore–Currently, Marylanders aged 62+ who work fewer than 25 hours a week can be paid LESS than the current minimum wage. AARP MD will testify on Tuesday, February 11 in front of the Maryland House in support of HB 295—The Maryland Minimum Wage Act of 2014—which would repeal this provision and guarantee older Marylanders that right to the same minimum wage as younger citizens.
"This is an issue of equity and fairness," says AARP MD Advocacy Director Tammy Bresnahan ( follow Tammy on Twitter), who is testifying on behalf of AARP MD. "AARP believes in the fundamental right of all people to be free from employment discrimination, and we are working to champion measures to strengthen laws against age discrimination at the federal and state levels."
Older workers were hard hit by the recent recession, experiencing record-long periods of unemployment and the inability to find new jobs. Other older workers held on to their jobs, but are opting to delay retirement because they want to work or, increasingly, because they cannot afford to retire. In both cases, the persistence of age discrimination, subtle or blatant, remains a significant barrier to older workers being hired or retaining jobs.
AARP fights on real issues that matter to people and their families. For more information on AARP MD, visit www.aarp.org/md. Follow AARP Maryland on Facebook and Twitter.
ABOUT AARP
AARP is a nonprofit, nonpartisan organization with a membership that helps people 50+ have independence, choice and control in ways that are beneficial and affordable to them and society as a whole. AARP does not endorse candidates for public office or make contributions to either political campaigns or candidates. We produce AARP The Magazine, the definitive voice for 50+ Americans and the world's largest-circulation magazine with over 35.1 million readers; AARP Bulletin, the go-to news source for AARP's millions of members and Americans 50+; AARP VIVA, the only bilingual U.S. publication dedicated exclusively to the 50+ Hispanic community; and our website, AARP.org. AARP Foundation is an affiliated charity that provides security, protection, and empowerment to older persons in need with support from thousands of volunteers, donors, and sponsors. We have staffed offices in all 50 states, the District of Columbia, Puerto Rico, and the U.S. Virgin Islands.
###