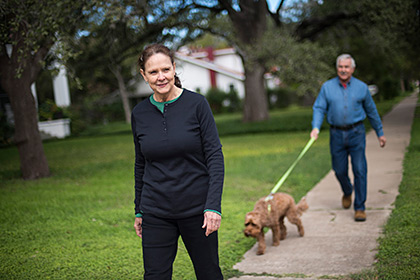 By Tracy Sutton Schorn

"When you grow older, you discover the importance of being closer to everything," said Jeanine Capeheart, 69. She and her husband built their dream home in Hunt years ago, but "it's on 10 acres with few neighbors—a problem if we age to the point we can't drive."
So the Capehearts restored a bungalow as a second home across the street from their daughter and grandchildren in Lockhart, a town where the library, grocery and shops are within a one-block radius.
The Capehearts haven't moved full time to Lockhart, but when the time comes, "having the security of family in close proximity as well as easy access to city conveniences will be a priority as we age."

Choosing to stay at home
The Capehearts are part of a growing trend of older people choosing to retire in "livable communities"—places with the sorts of amenities that help people remain in their homes as they age: affordable housing; safe roads, crosswalks and sidewalks; accessible health services; and nearby cultural and entertainment venues.
To help people live in their homes longer—a less costly option than a nursing facility—AARP Texas is urging local officials to take stock of what's needed to ensure their cities and towns are livable communities.
One element is a "complete streets" policy, which requires transportation officials to take a holistic approach to street construction and repair projects.
With a complete streets approach, street and traffic planners consider the needs of pedestrians, bicyclists, bus riders and people who use wheelchairs or walkers, as well as motorists. San Antonio, Houston, Dallas, Austin and Brownsville have or are working on complete street policies.
"Transportation is a key issue, especially for seniors with mobility issues," said Tim Morstad, AARP Texas associate state director.
Tom Bauer, 73, president of the South Austin AARP chapter, found out just how difficult crossing the street could be when he walked near the South Austin Senior Activity Center. The sidewalk was "shoddy," he said, and the bus stop was across four lanes of traffic. "The only time [drivers] stopped is if we were waving our arms."
People who used the center petitioned for a pedestrian-triggered stoplight (a beacon) at the crosswalk. AARP Texas helped create a video demonstrating the difficulty of crossing the street, and the city installed the beacon.
"It's not just good for us, it's good for the whole neighborhood—schoolkids use it, too," Bauer said.
Luann Golden, executive director at the Association for Independent Living (AFIL), also received assistance from AARP Texas when her organization petitioned Dallas to improve the walkway to the DART station nearest the AFIL campus for adults with developmental disabilities.
"There was a gap in the bridge; you could see traffic through it," Golden said. Also, the handrail was too low, and the sidewalk was not wheelchair-accessible. The photos AARP Texas took of the unsafe structure were used to help persuade city officials to make repairs, she said. In September, new sidewalks leading to the bridge were installed.
To alert AARP Texas to an unsafe street or a needed livable community improvement, Morstad suggested contacting an AARP chapter or using safestreetstexas.org, which is monitored by a coalition of groups led by AARP Texas.
Tracy Sutton Schorn is a writer living in Lockhart, Texas.