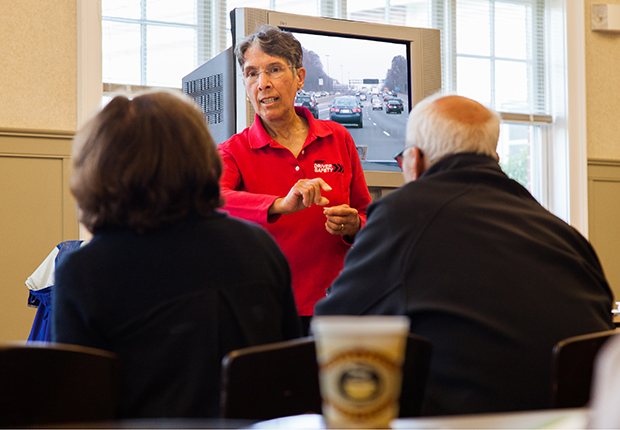 By Natalie Missakian

Terry Duffy, an AARP volunteer, always hears good feedback about the driver safety class she teaches at the River­front Community Center in Glastonbury. Just last year a woman called to thank her, saying the course helped her mother (in her late 80s) decide that it was time to hang up her keys.

"She realized she was having much more difficulty driving than she thought, so she gave up her car," Duffy said. "That's not our goal, but in this case it helped the woman self-assess and realize she shouldn't be driving."

Duffy, 66, of Cromwell, is one of 88 volunteers who teach the AARP Smart Driver course ( aarp.org/drive) in Connecticut. Last year, 9,076 drivers attended 709 classes at 184 locations, said Brent Leveille, state coordinator of the Connecticut program.

One major goal, he said, is to keep older adults driving safely for as long as possible—a time frame that's "going to be different for everyone."

The four-hour refresher class covers the effects of aging on driving, changes in traffic laws, accident prevention and new technologies, such as backup cameras, advance crash warning systems and GPS devices.

The class costs $15 for AARP members and $20 for nonmembers. An online course is $19.95 for members and $24.95 for nonmembers. State law requires an insurance discount for anyone 60 or older who completes the course, but drivers should check with their carrier to make sure they are eligible.

Identifying limitations
Robert Rodman, 85, of Avon, a volunteer instructor for 14 years, recently told a class of 21 people at the Farmington Senior Center that it's important for older drivers to know their limitations.

When he approaches an angled intersection, he sometimes has trouble "trying to get my head around to see what's coming over my left shoulder."

"Therefore, if I can, I try to avoid intersections that are angled and use intersections with traffic light controls," he said.

Changes in vision, hearing and flexibility, as well as medications, can all have an impact, he said.

Johanna LaVia, 78, of Canton, said she signed up seeking advice for her 87-year-old brother in California, who has early-stage dementia. So far, his driving is fine, but the condition is progressive.

"I'm going to have to make some decisions about whether or not he is going to be able to continue driving," LaVia said. Her brother told her it's about more than getting from place to place.

"It makes him feel like he still has some control of something," she said. "That made me feel like, OK, we have to do this very cautiously, carefully, but not wait until something terrible happens."

Leveille, 71, of Newington, said a related AARP program, We Need to Talk, helps caregivers and adult children figure out if it's time for an older relative to stop driving and gives tips for broaching the difficult subject.

"You don't want to just say, 'You know, Dad, I drove with you yesterday and you scared me to death,' " Leveille said.

The best approach, he said, is specific observations—a missed stop sign or difficulty remembering the way to the library. Warning signs include being honked at frequently, driving too slowly or finding dents on the car.

A third AARP program, CarFit, developed with occupational therapists, helps drivers adjust seats, mirrors and steering wheels to fit their needs. Both CarFit and We Need to Talk are free.

To find a class or to volunteer as an instructor, go to aarp.org/drive or call 877-846-3299 toll-free.

Natalie Missakian is a writer living in Cheshire, Conn..