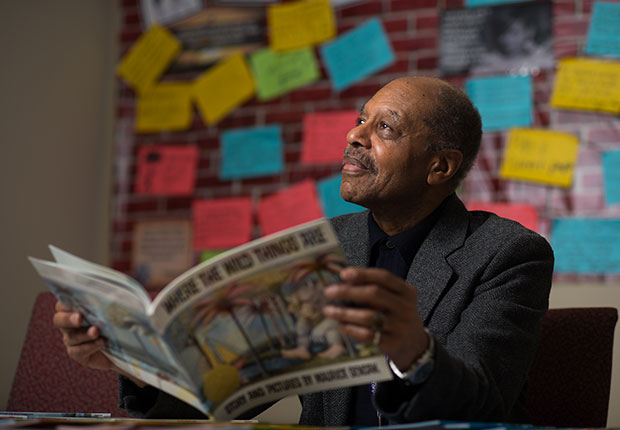 By Lisa Bertagnoli

Twice a week, Bernard Coach­man spends 90 minutes tutoring second graders at Beethoven Elementary School on Chicago's South Side. Coachman, a retired customer service rep, has no teaching experience. Still, his work as an Experience Corps volunteer tutor has earned a gold star.
The 2013-14 school year marked Experience Corps' debut in Chicago public schools. During that inaugural year, 130 volunteers tutored 974 students in 89 classrooms at 14 elementary schools.
At the start of the school year, 95 percent of the students being tutored were reading below grade level. By the end of the year, 43 percent of the tutored students had boosted their reading levels by at least a year.
They did better in more than reading: 56 percent showed improved attendance, and 51 percent demonstrated more concentration, class participation and motivation in the classroom.
Tutors also reaped benefits. More than 9 of 10 reported that tutoring helped them stay physically and mentally active, gave them an increased sense of purpose and made a difference in the community.
"One of the reasons I retired was so I could give back," said Coachman, 71, who found a satisfying moment when his students could recognize in-print versions of "against," "thorough," "away" and other words in their vocabularies. "You can't help but feel a sense of reward. It's priceless."
To launch the program, AARP Illinois recruited volunteers from all over the city. Prospective volunteers must pass a background check, then take a three-day training program. "We're really preparing them for the kind of classroom they're walking into," said Myrna Torres, AARP Experience Corps Chicago branch director.
Training focuses on the five pillars of reading fundamentals—phonemic awareness, phonics, vocabulary, comprehension and reading fluency—as well as classroom management techniques.
For instance, trainers advise tutors how to keep all the students in a group engaged while working with a single student. They also learn to give constructive feedback.
"I don't allow my tutors to say 'Good job,' " Torres said. "That's too vague." Specifics, such as "Johnny, you read that sentence well," better instill confidence in students.

Winning approval
The success of the program converted at least one skeptic—Safurat Giwa, principal at Pershing East Magnet School in Chicago's Bronzeville neighborhood, who took her post the same year Experience Corps debuted, and was not part of the decision to start the tutoring program.
"I wanted to reserve judgment," she said. Due to the AARP affiliation, "I was thinking we'd have a school full o grandmas and grandpas."
Surprise, surprise: Three of the 11 tutors assigned to Pershing were former teachers, "and it was great that they were giving back and didn't have to," Giwa said. Sixty of the 210 students in kindergarten through third grade participate.
This academic year, Torres adjusted the program a bit, reducing to three from four the maximum number of students per group.
She's also setting lofty goals. By the end of the current school year, she wants to see half of the students achieve at least a 12-month increase in their reading level.
By the end of the 2015-16 academic year, Torres is shooting for 60 percent of the students to make that 12-month leap.
Meanwhile, twice-weekly trips to a classroom enrich the lives of volunteers like Patricia Joseph, a former data and information services executive who tutors third graders at Pershing.
"These kids are our future, and I'm a forward-looking person," said Joseph, 68, who lives in Lincoln Park.
In addition to helping shape the city's future, Joseph enjoys the time she spends with other tutors. "The camaraderie is fantastic," she said. "I learn from them, they learn from me, and that's been terrific."
For details on Experience Corps Chicago or to volunteer for the program, call 312-660-8655 or visit www.aarp.org/ecchicago.
Lisa Bertagnoli is a freelance writer living in Chicago.