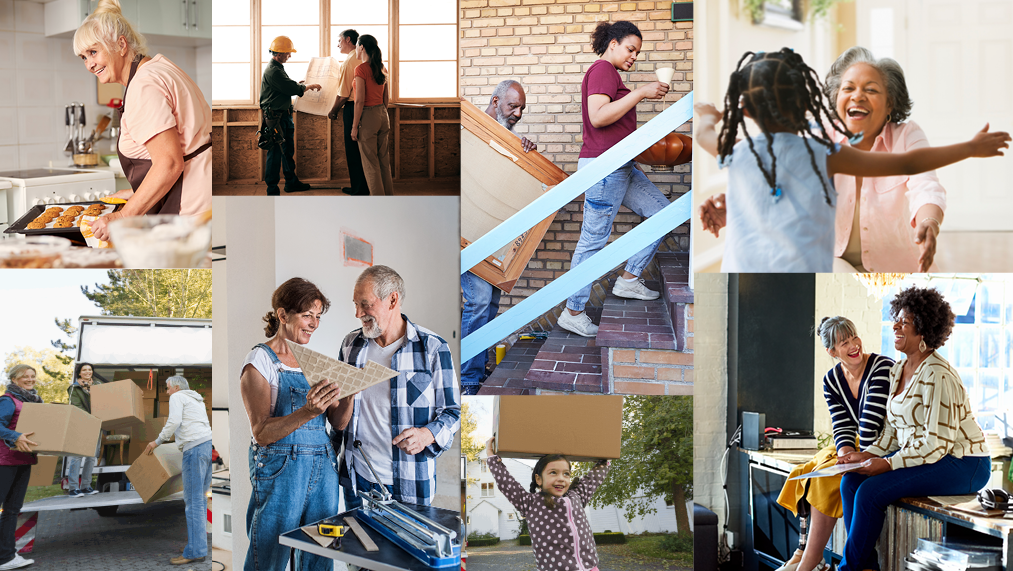 Flexible Housing Options For All Ages
AARP Kentucky is proud to have championed new Accessory Dwelling Unit (ADU) ordinances in Lexington and Louisville, which allow people to create additional living spaces so people can live with their family or loved ones as they age. Now you can convert your attics, basements, and garages into livable homes for your loved ones. We're fighting to provide opportunities for you to choose how you live as you age. AARP encourages you to discover how you can make room for family on your property.
Make Room for Family - Accessory Dwelling Units
What are Accessory Dwelling Units?
An Accessory Dwelling Unit (ADU) is a fully self-contained home with its own kitchen, bathroom(s) and sleeping area on the same lot as the main house. They're a smart match for smaller households and can be created through basement or garage conversions, additions, or new construction of back yard "tiny homes." Typically, most residential zones require that they be discreetly located to fit in well with the surrounding neighborhood. Oftentimes, they're invisible from the street. However, you should check local regulations to be sure your project is in compliance Creative design of ADUs can take many different forms and styles, they can fit discreetly into all sorts of communities, including suburban subdivisions, row-house streets (either with or without back alleys), urban neighborhoods — and, of course, large lots in rural areas. ADUs can help keep multi-generational families together or even give homeowners a new option to rent part of their property in order to afford and maintain their primary residence.


DETACHED ADU is a stand-alone home on the same lot as a larger, primary dwelling. Examples include backyard bungalows and converted outbuildings.
ATTACHED ADU connects to an existing house, typically through the construction of an addition along the home's side or rear. Such units can have a separate or shared entrance.
GARAGE ADU makes use of an attached or detached garage by converting the space into a residence. Other options involve adding a second story ADU above or beside a garage or building a new structure for both people and cars.
INTERNAL ADU is created when a portion of an existing home is partitioned off and renovated to become a separate residence. This can be a LOWER-LEVEL ADU created through the conversion of a home's existing basement (provided that height and safety conditions can be met).
Paying For Your ADU
The best way to finance your ADU will depend on the cost of your project and your financial position. Although ADUs are occasionally developed by professional builders into newly built homes, they are more often created by individual homeowners and financed through some combination of savings, second mortgages, home equity lines of credit (HELOC), and/or funds from family members. ADUs may also be financed using any loan designed for home addition or renovation projects, such as Fannie Mae's "HomeStyle" renovation loan or FHA's 203(k) rehab loan. If you have enough equity in your property, you may be able to use a HELOC to build your ADU. A HELOC is a revolving source of funds which you can access as you choose, and it is a second mortgage on your property. The Cash-Out Refinance Mortgage is a cash-out refinance, you turn a portion of your equity into cash, and start a new first mortgage with a higher principal amount. Similarly, you can use the loan proceeds from a Renovation Mortgage to finance your ADU. Different from a cash-out refinance, these loan products consider the "as-completed" value of your property, including the ADU, to determine how much you can borrow.

Two common renovation mortgages to help finance ADUs:

Back To Top
Let's Work Together
Whether you're building your own ADU or you want to join AARP Kentucky in bringing the ADU option and improved housing to more Kentuckians, we'd love to hear from you. Send email: kyaarp@aarp.org
How Accessory Dwelling Unit Help Families
ADUs Help Families Address a Variety of Housing Needs
Back To Top

More About ADU Value
• According to a 2010 AARP Survey, 92% of seniors wish to stay in their communities. ADUs give them the flexibility to do so.
• ADUs may provide a lower-cost alternative to assisted living, which, according to research by Genworth, can cost seniors and their families over $3,500 per month.
• According to David Shove-Brown of the Architecture Firm //3877, ADUs may add value to residential property.
• Because of city ordinances and construction regulations, ADUs will blend into the neighborhood.

Flexible & Adaptable – ADUs benefit Kentucky families in multiple ways.
Across the U.S. and in Canada, ADUs are taking off as a popular new/old housing type. Some reasons for this emerging trend include:


Income stream and property value. ADUs could generate cash flow and may increase the resale value of the property. Where allowed, ADUs may make good short-term rentals since the homeowner must live on-site.
Match housing needs at any age. ADUs could offer empty nesters and seniors the chance to "age in place" in the community they know and love, multi-generational families a way to live close by but not share a kitchen, and individuals and couples an entry-level housing choice.
Affordable housing. ADUs help keep housing costs down for both owners and renters. They could generate rental income to help homeowners cover mortgage payments, and may allow them to stay in their homes. Since ADUs are required to be small relative to primary dwellings, they are typically more affordable than other homes in the same neighborhood.
Versatility. Needs change over time, and the uses of ADUs can (and often do) flex for different stages of life. Although they typically provide long-term housing, ADUs can also serve as home offices, caregiver or nanny housing, art studios, short-term rentals, and lodging for visiting friends or relatives.
ADUs House People of All Ages
Consider the following:

EMPTY NESTERS could build an ADU and consider renting out the ADU or choose to move into it.
PEOPLE looking for entry-level housing choices could rent an ADU in a neighborhood they might not otherwise be able to afford.
FAMILIES WITH YOUNG CHILDREN could use an ADU as housing for a nanny, au pair, or grandparent.
INDIVIDUALS IN NEED OF CARE could reside in an ADU to be near family members, or use the ADU to house a live-in aide. In fact, ADUs may be an affordable and more comforting alternative to an assisted-living facility or nursing home.
HOME BUYERS may be able to use the rental income from an ADU to help pay their mortgage or finance home improvements.
HOME-BASED WORKERS could use an ADU as their office or workshop.
*This information is provided for educational purposes only. For more information, please contact AARP Kentucky at kyaarp@aarp.org

Back To Top

Great Neighborhoods for All Ages
Need more local data about housing or transportation your community? Visit the Updated AARP Livability Index. The AARP Livability Index scores neighborhoods and communities across the U.S. for the services and amenities that impact you the most.