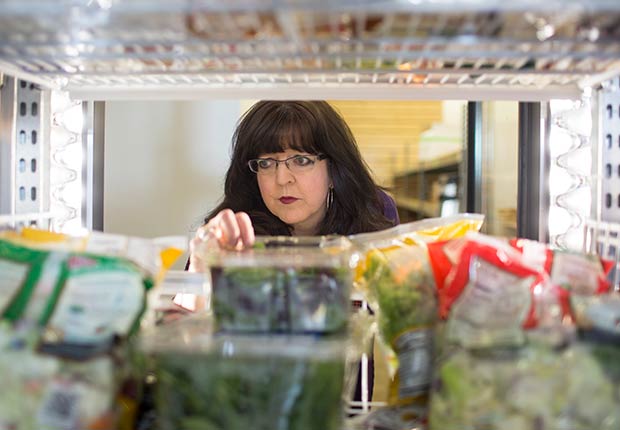 By Mary Van Beusekom

Sarah Arbisi, of Minnetonka, stops by her local ICA Food Shelf in the Minneapolis suburbs twice a month to pick up items she needs, such as canned and frozen goods, milk, and fresh fruits and vegetables.

The Intercongregation Communities Association, said Arbisi, 54, is helping her "weather the storm" caused by a recent job loss and the end of child support after her daughter turned 18. She currently works a lower-wage temp job, doing data entry, and stays in her mother's condo, which is for sale. "I don't know where I will live next," she said.

To help meet a persistent need in the Twin Cities area, Minnesota FoodShare is conducting its annual March Campaign, which involves 300 food shelves. Thousands of congregations, businesses, schools and individuals are participating.

Minnesota FoodShare is seeking donated food—or cash, which goes a lot further—to help keep the shelves stocked during the off-peak time of year for donations.

All the donated money goes to the food shelves, with each receiving a portion according to the amount raised and the number of clients, said Suzanne Shatila, director of Minnesota FoodShare, part of the Greater Minneapolis Council of Churches.

To highlight the issue of food insecurity, AARP Minnesota is planning to repeat a popular series of events at craft breweries in which members make a food donation in exchange for a tour and a beer, said Seth Boffeli, state communications director.

"In these four events last fall, we gathered more than 1,000 pounds of food, which equates to around 2,500 meals," he said.

AARP also plans a repeat of a hunger-awareness event featuring an outdoor movie screening Aug. 10 at CHS Field in St. Paul. Last year's film was Field of Dreams. Representatives from Hunger-Free Minnesota will speak about hunger in the older population. Dates haven't yet been set for the brewery events.

Many in need are working
Peg Keenan, executive director of the ICA Food Shelf that Arbisi visits, said 49 percent of clients have someone in the family working one or more jobs. However, they struggle because they may make low wages and often lack benefits such as health insurance.

"They're underemployed," she said. "That has happened to a lot of people in their 50s and 60s."

While no statistics are available for the 50-plus population, Shatila said that roughly 9 percent of Minnesotans 65 and older are food-insecure—that is, they are not certain they will be able to buy enough food in the future or where it will come from.

The problem is growing in the older population, Keenan said. "Currently, 11.3 percent of our clients are in their 50s. In 2001, it was 8 percent. Of those in their 50s, 49 percent using the food shelf are households with children."

"Even though the recession is over, we're still seeing really high numbers of people coming into the food shelves," Shatila said.

"During October, November and December, the donations go up, people are very generous," she said. "After the new year, donations typically taper off, so a lot of food shelves have trouble soliciting donations around that time."

In 2015, the March Campaign raised $8 million and collected 4.7 million pounds of food. Each year, Minnesota food shelves have over 3 million visits, many of them from one- and two-member households, which tend to be made up of older people, Shatila said.

"This is a grassroots fundraising drive, and it's pretty unique to Minnesota," she added. "It really does allow our local food shelves to serve people in their communities and to address hunger on a local level."

Arbisi said that anyone like her who is struggling should use the food shelves without feeling embarrassed.

"My life is a reality that other people over 50 are living," she said. "You just have to keep going, keep rising above the waves of the storm."

To donate to the campaign, you can drop off nonperishable food items at your local food shelf or donate directly to Minnesota FoodShare at gmcc.org/minnesotafoodshare.

Mary Van Beusekom is a writer living in Excelsior, Minn.