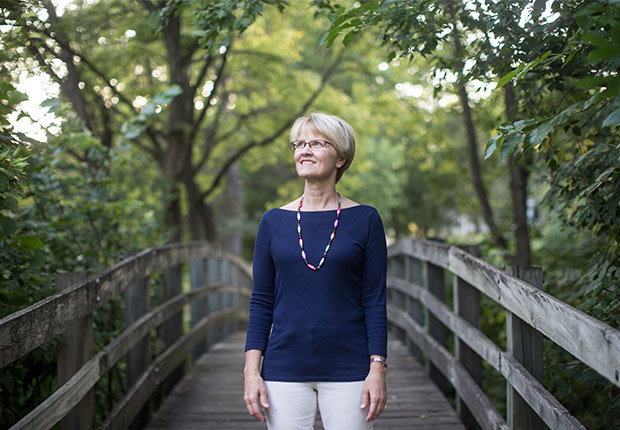 By David Hawley

Jan Schubert experienced an epiphany last year as she sat in a hospital waiting room while her husband underwent emergency gallbladder surgery.

"While I was waiting, I was thinking about life and realizing that the way I allocated my time and energy did not match my priorities," she recalled. "I was spending way too much on my job and not nearly enough on my husband, family and friends."

Her husband recovered fully. For Schubert, 59, of Minneapolis, who had been working for a tour-operating company, that afternoon was a wake-up call—and the beginning of several months of reflection. She left the stress and long hours of her job and is now working with others who are exploring potential transitions in their own lives.

The program that helped Schu­bert envision a new direction is called Life Reimagined, which AARP launched in 2012. Inspired by the book of the same name by Richard J. Leider and Alan M. Webber, the program has evolved in Minnesota from an online resource into group sessions called Checkups, which are conducted by volunteer facilitators known as guides. Most of these free Checkups take place monthly in the Twin Cities area.

The Checkup is designed to serve as a guide for people of all ages who have experienced what Leider calls a "trigger"—a conscious choice or an external event that disrupts the status quo of their lives. It can be a lost job, a retirement, a divorce, a medical issue, an empty nest or a personal epiphany like the one Schubert experienced.

The two-hour session prompts participants to review the "spiral" of their lives—where they've been, where they're going—assess their strengths, weaknesses and aspirations, and plot new directions. For many, another tangible benefit is interacting with people who also are searching for new directions.

Schubert was so inspired by her experience with the program that she decided to become a Checkup guide, which required an all-day training session provided by AARP Minnesota. About 30 guides have been trained so far, and roughly 1,000 Minnesotans have participated in the Checkups in the past year.

Broadening the reach
"There's a real need for this program among people who are making a transition in life and often think they're facing challenges alone," said Jay Haapala, community outreach director for AARP Minnesota.

Haapala has been training guides for Life Reimagined Checkups, most of them in the Twin Cities and suburbs. He'd like to see the program expand into other Minnesota towns as well as the more rural areas of the state.

Author Leider, 71, has offices in Edina, a Minneapolis suburb where 1 of 5 residents are 65 or older and the median household income in 2013 was $84,000. Last year about 300 people, including city and business leaders, attended a Life Reimagined lecture given by Leider at the Westin Edina Galleria.

Out of that came a proposal to create Life Reimagined-Edina, which will link individuals with community resources, such as the local hospital, continuing education programs, the city's art center and other organizations. Waddell & Reed, a financial planning and investment company, provided a $50,000 grant, and Schubert was hired to be the program coordinator.

"It's still in its infancy, but it's the first of its kind where we're trying to connect all the dots," Leider said. "We've gotten the City Council, the Chamber of Commerce, schools, business leaders, policymakers and citizens all on the same page saying, 'Let's try this.' "

Go to lifereimagined.org to learn more about Life Reimagined.

To learn about Edina's program, go to lifereimaginededina.org or email jan@lifereimaginededina.org.

More guides are needed. To become a Minnesota Life Reimagined volunteer, email Haapala at jhaapala@aarp.org.

David Hawley is a writer living in Edina, Minn.