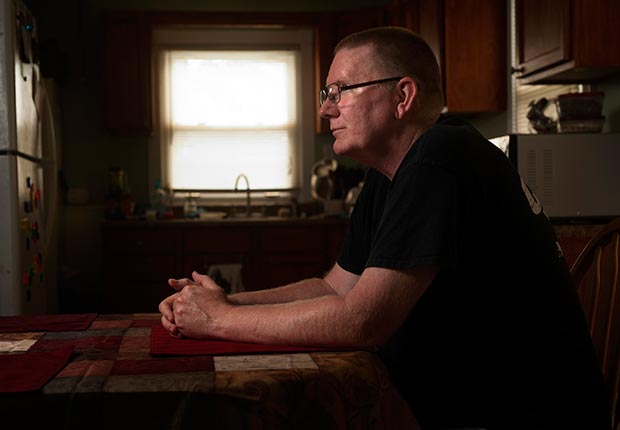 By Tim Poor

These days, $37 a month isn't much to pay for health insurance. But then, Lonnie Lee Smith doesn't have a lot to spend.

Smith, 52, of Sedalia, lost his job as a trucker delivering feed to farms after injuries from an accident in 2012 left him unable to work.

His wife, a kitchen manager, is the only source of household income. It's not much, but it's enough to make Smith and their daughter, 19, ineligible for Medi­caid, the health insurance program for low-income Missourians. He was able to get insurance from an exchange made possible by the Affordable Care Act (ACA), but the $37 premium is a stretch.

"If prices go up again, I don't know if we'll be able to afford insurance," he said.

Smith's situation isn't unusual in Missouri, one of 21 states that have refused to expand Medicaid under the ACA, leaving 300,000 low-income residents without health insurance. Others, like Smith, pay for private insurance but would likely qualify for Medi­caid under expansion.

"As they get older, people realize how important health insurance is," said Sidney Watson, a professor at the Center for Health Law Studies at Saint Louis University School of Law. "Older people who are paying large amounts for insurance would get a much better deal under Medicaid.

"If you're 55 to 65 and get laid off or your hours get cut back, you cannot qualify," she added, unless you have a permanent disability or care for a minor child and have a very low household income.

Medicaid, marking its 50th anniversary this month, is the nation's main public health insurance program for low-income people and those with disabilities. It also pays for long-term care for many older adults.

The program (MO HealthNet in the state) covers about 875,000 Missourians, and almost two-thirds of its $9.3 billion budget comes from federal funds.

Much of the Medicaid spending covers institutional care for older residents. Some who would otherwise have to live in a nursing home can get funding for home care if they are 63 or older and have a monthly income of $1,281 or less.

'A practical solution'
The ACA envisioned that states would expand Medicaid to nearly all adults under 65 with annual incomes at or below about $16,243 for an individual or $27,724 for a family of three in 2015. The federal government would pick up all of the additional cost through 2016, declining to 90 percent by 2020.

But Missouri decided to opt out. A number of advocacy groups, including AARP, have been lobbying for expansion, which has the support of Gov. Jay Nixon (D) and some legislators.

"People want a practical solution to improving our health care system," said Craig Eichelman, AARP Missouri state director. "If you're an older adult and don't qualify for Medicare yet, expansion is a vehicle to help hardworking Missourians."

Legislative leaders have refused to bring it to a vote, saying they do not want to expand a program they describe as mismanaged and broken. "We've seen the poor outcomes, the inefficiencies and the lost revenues from poor administration," said Rep. Sue Allen (R-Town and Country).

Timothy McBride, a Washington University professor who chairs a committee appointed by the state Senate to keep tabs on the Medi­caid program, said expansion makes budgetary sense but will be difficult to pass in 2016, an election year.

"We're losing jobs; we're losing money—$2 billion a year," he said, referring to the federal payment for expansion. "It seems kind of crazy not to do it."

Both McBride and Watson dispute the arguments that Medicaid is fatally flawed.

Watson noted that a recent independent study commissioned by Kentucky, which expanded Medicaid under the ACA two years ago, shows the impact. The change brought in $1.16 billion the first year, creating more than 12,000 jobs.

Tim Poor is a writer living in Clayton, MO.