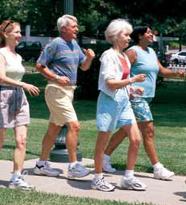 Spring has sprung, and AARP Missouri invites members to enjoy the season by taking a walk with the Clay-Platte Trackers of Kansas City. The club is part of the American Volkssport Association, which sponsors noncompetitive walks to encourage healthy lifestyles.

The May 16 event offers 5K and 10K routes starting at 9 a.m. Participants are invited to gather again at 3 p.m. at the Shoal Creek Living History Museum and Nature Trail, which showcases 80 acres of rolling hills and historic structures.

"This is a great chance to shake off those winter blues and get some exercise," said Craig Eichelman, AARP state director.

To register, go to clayplattetrackers.org or call 816-719-4628.