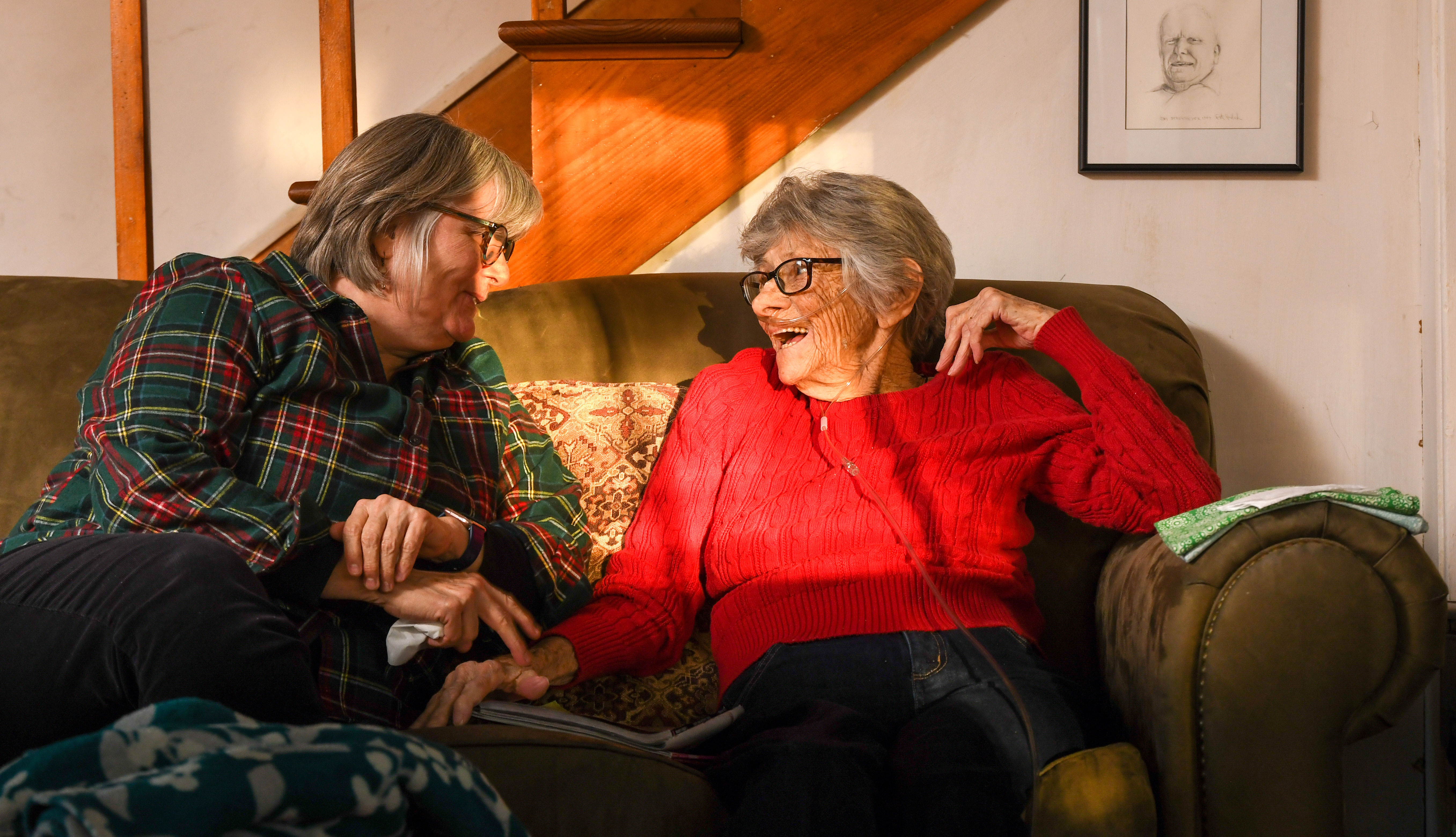 Lisa Fabin sleeps in her childhood bed with a baby monitor nearby.

"Some people need white noise to go to sleep. I have my mother's oxygen machine," says Fabin, whose own home is about a mile away, in Minerva, in the Adirondacks.

Fabin, 59, retired from teaching and moved back to better care for her mother, Marge Strohmeyer, who broke both her hips within six months. At 91, her mother is now in a wheelchair and also has dementia. "It was hard holding down two full-time jobs," Fabin says.

"Everyone says to me, 'Your mother belongs in a nursing home.' Well, my mother doesn't want to be in a nursing home," she says.

Fabin was recently able to return to work as a reading specialist because her mother qualified for home-care aides through Medicaid. Still, Fabin has had to pay them extra at her own expense to keep them on the job. And Strohmeyer only qualified for the program after depleting her savings to replace a furnace.

In New York's rural areas, aides are hard to come by, and even harder to keep, because of the coronavirus pandemic and the lure of higher-paying jobs.

AARP New York advocates are pushing for funding in the state budget that will not only help caregivers but also alleviate some of the financial burdens from the ongoing pandemic, like relief from unpaid utility bills.

Aging at Home With Services

AARP supports legislation that would address the short supply of home-care workers across the state through better wages, says Bill Ferris, AARP New York's legislative representative. Prioritizing long-term care services means ensuring there are enough people to provide them.

"Older New Yorkers who require long-term care must be given the opportunity to stay in their homes, as the vast majority want, where they are happier and where care can be delivered less expensively," Ferris says.

AARP is advocating for increased non-Medicaid home-care services. Last year the state budget included $8 million, half of what AARP requested, to reduce the waiting lists for services such as transportation and food deliveries.

Fabin says there's a dearth of services in her rural community and she has struggled with getting her mother into the limited adult day care available.

"I don't get how we want to keep our elderly population in the community, but we don't do anything to keep them in the community comfortably," Fabin says. AARP New York is advocating for a tax credit for family caregivers like Fabin, who spend a lot out of pocket to keep their loved ones at home.

Other AARP priorities include a $20 million investment to add ombudsmen at nursing homes and other long-term care facilities, and expansion of the state's Medicare Savings Program so more older adults can afford prescription drugs.

AARP New York is also urging Gov. Kathy Hochul (D) to appropriate $1.25 billion of federal funds to put toward utility bill relief. It also wants a state tax credit for non-energy utilities (such as water, internet and telephone) to forgive low-/fixed-income households' arrears, which would cost an additional $200 million.

Sign up for advocacy alerts at aarp.org/GetInvolved.

Donna Liquori is a writer living in Albany.

A Day in the Life of a Caregiver - AARP
For more on Caregiving