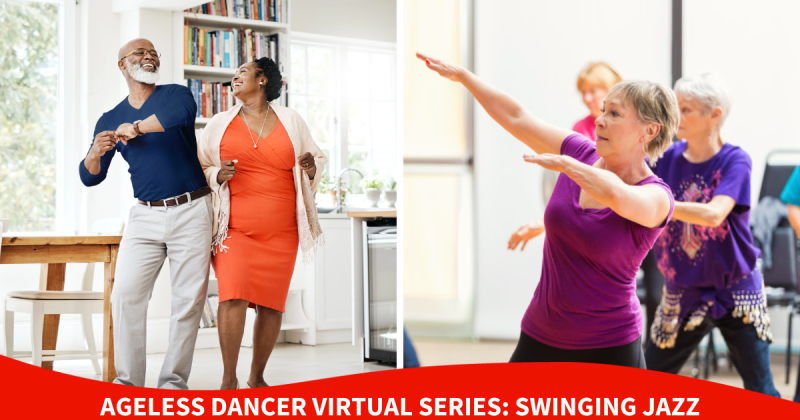 Have you always wanted to learn how to dance? Are you a former dancer looking to get moving again? Good news! Dance is available to you at any age, and is good for the mind, body, and soul. While there are a variety of dance styles such as ballet, tap, contemporary, and hip-hop; swing dancing has remained popular for over 100 years! Swing is a style of dance that developed alongside the swing style of jazz in the 1920s. Back then, dancers would move to the tunes of famous jazz musicians such as Louis Armstrong, Count Basie, Roy Eldridge, Glenn Miller, and other greats.

To honor the traditions of swing dance and jazz, AARP New York along with Saratoga Performing Arts' Center (SPAC)'s School of the Arts is proud to offer "The Ageless Dancer Virtual Series: Swinging Jazz." This series of classes is open to AARP members and guests age 50+ interested in dance and jazz.

Each virtual class will last one hour, beginning with a warm-up followed by beginner-level choreography. Participants will learn swing-inspired jazz dance moves and enjoy a fun and creative workout.

Instructors from the SPAC include Johnny Martinez, a swing and jazz dance instructor, along with Dennis Moench and Jill Moffett. This six-class series will get you moving to the beat and feeling great! Listen to some classic swing jazz tunes and get into the groove.

Class Dates

Each virtual class will take place via Zoom on Fridays from 12:00pm to 1:00pm EST.

AARP members and guests are encouraged to register in advance to reserve your spot. We hope you can join us for one or all of these events!


Connect with us on our social media channels to learn more about AARPNY and upcoming virtual events:
Facebook | Twitter | Instagram | YouTube | LinkedIn