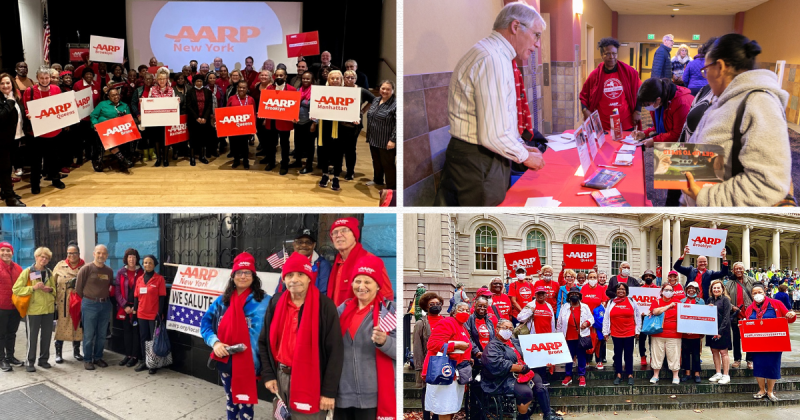 AARP New York volunteers are a dynamic group of people using skills they've cultivated. They work to improve the lives of fellow New Yorkers — and not just folks age 50 and older. They may attend a hip hop concert and hand out fliers about Medicare. They might lend a hand at food drives around Thanksgiving. Or they may travel to Albany to make sure the governor and state legislators are aware of vital issues, like caregiving support and unaffordable prescription drug prices.

We're looking for talented people who want to make a difference in the lives of others, not only people age 50 and older, but all New Yorkers. Strategic thinkers, planners, leaders and doers are all welcome to learn more about AARP's volunteer positions. We like to think of AARP as a wise friend that helps people live their best lives. As an AARP volunteer, that's what you will be doing. And volunteering is known to help you stay healthy, confident and purposeful.

We're flexible. If you still aren't ready for in-person events, you can volunteer for online events. If you're more comfortable working behind the scenes at events than public speaking, we'll put you to work. From stewarding an outdoor food drive to organizing an indoor caregiving conference to sharing information at a local concert, you can be a part of fun events. And you'll have the support of AARP staff and a mission-driven organization that's been fighting for the 50+ for decades.

Some volunteers lead discussions with local influencers; others share helpful information among their networks. We can provide opportunities that dovetail with your skills and interests – and how much time you have.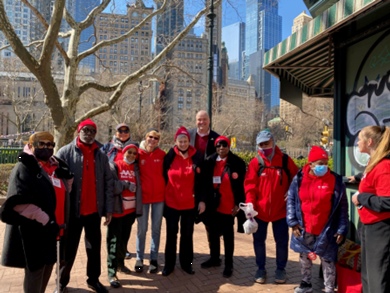 What kind of volunteer are you?

Passionate about 50+ issues like Medicare and prescription drugs? – Join our Advocacy team, a group of AARP members actively engaged in AARP's efforts to influence leaders on the issues that matter most to the 50+ population. Volunteer roles vary based on your interest and time

Are you interested in educating the community on 50+ topics? Join the Speakers Bureau volunteers to educate and inform the public by presenting workshops on various topics such as caregiving, brain health, downsizing, decluttering, or fraud prevention.

Enjoy being out in the community? Join our Community Engagement team to connect members of their community with valuable AARP information and resources. These volunteers represent AARP at various community events and activities.

Interested in learning something new? – Attend a monthly volunteer meeting or sign up for a training led by fellow volunteers

There's something for everyone.
AARPNY Volunteers Telling Our Story
Learn how we work with our members, volunteers, the public, and elected officials to bring real possibilities to the lives of people 50 and older in New York.

1. From Long Island? Click here to learn more about Long Island info sessions.

2. For all other New Yorkers, register for a virtual (Zoom) open house to learn more about AARPNY volunteer opportunities:

3. Can't make an info session? Complete an online interest form at : https://aarp.org/iwant2volunteer or email us at: nyaarp@aarp.org.

To find out about the AARP Social Mission, learn more: here

Stay Connected with AARP New York
Follow us on Facebook | YouTube | Instagram | Twitter | LinkedIn