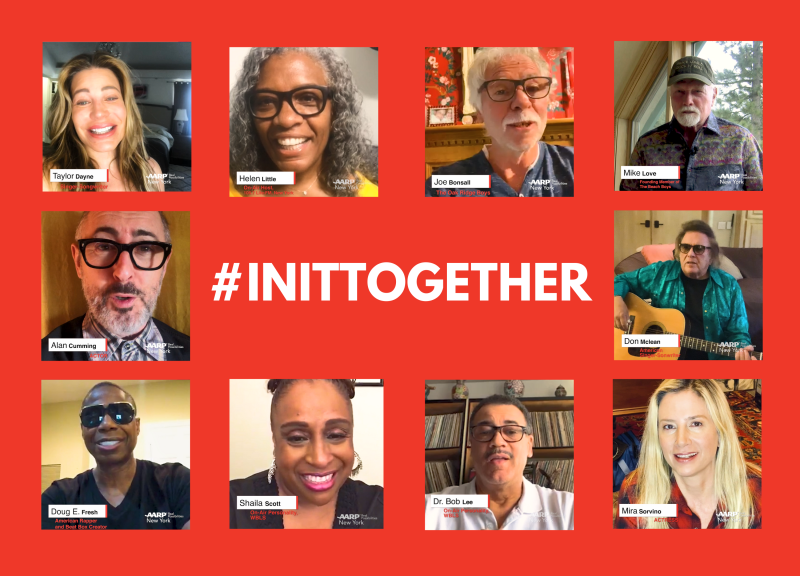 As we search for glimmers of hope during this difficult time of social distancing, we will be sharing a weekly video series entitled In It Together with inspirational words of encouragement from renowned members of the entertainment industry actors, singers-songwriters and producers created specifically for members and volunteers to help lift their spirits.

Every Friday, we will update this page and post in our social media platforms a new message from a celebrity for our AARP New York members and hard-working and dedicated volunteers.

April 24, 2020: Uplifting Message from Taylor Dayne
Music helps soothe the soul. Listen to the lyrics as singer-songwriter Taylor Dayne sings for our AARP New York members and volunteers.

May 1, 2020: Safety Tips from Mike Love
Hear what the legendary Rock and Roll Hall of Fame Inductee, Grammy® winner and co-founder of The Beach Boys, Mike Love, has to say about what we should be doing to curb the spread of the virus to protect our community!

May 8, 2020: Alan Cumming
Tony Award-winner, Alan Cumming reflects on self-isolation in a special video for our hard-working and dedicated volunteers.

May 15, 2020: Doug E. Fresh
Rapper and beatbox creator Doug E. Fresh sends this uplifting message of love and support to our AARP New York members and volunteers.

May 22, 2020: Mira Sorvino
Actress Mira Sorvino says, "with love, mutual support, humor and hope, we'll get through the other side." Watch to hear her message of love to our AARPNY members, volunteers and community.

May 29: Joe Bonsall – The Oak Ridge Boy
Country and Gospel Music Halls of Fame member, Joe Bonsall from the legendary country quartet The Oak Ridge Boys, shares a positive message for our AARP New York members and volunteers.

June 12: Helen Little
Helen R. Little shares some touching words with our #AARPNY members, volunteers and community during this much needed time. She says that "love and compassion for each other" will help us get through this. Stay strong!

June 19: Dr. Bob Lee
Doctor Bob Lee shares a positive message of hope and says "there is a light at the end of the tunnel." He reminisces on the many AARPNY events he's participated in and supported us in.

June 26: Shaila Scott
Shaila Scott says we should "stay positive, stay sharp and stay tuned" because the best is yet to come after socialdistancing is over!

July 3: Don McLean
Sometimes all you need is a good song to put you at ease. Don McLean sings a piece from his song "Vincent" for our #AARPNY members and volunteers and says "we will come through this."

July 10: Judy Torres
Judy Torres shares some calming words for our AARPNY members and volunteers like keeping your routine and show up for your own life.

July 17: Ken Dashow
Q104 radio personality Ken Dashow shares how to stay calm during all of this: Yoga, exercise, walking in the morning & deep breathing. Referencing the Beatles, he reminds us, "We get by with a little help from our friends."

July 24: Sam Trammell
Actor Sa, Trammell appreciates you. That's his message to our #AARPNY volunteers and members who are doing what they have to do to stay safe and keep others safe.

July 31: Phil Rosenthal
Phil Rosenthal sends his love to our #AARPNY volunteers and fellow members. And he has one tip for getting through this time that will put a smile on your face: his dog Murray.

Bookmark this page to view our upcoming videos or connect with us on Facebook, Twitter, or Instagram: @aarpny

Original date posted: April 24, 2020
Updated on July 31, 2020