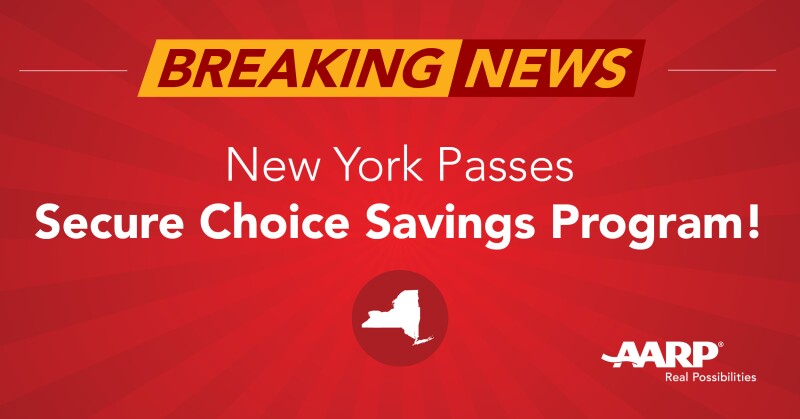 Secure Choice, a voluntary workplace retirement savings option that could help millions of working New Yorkers save for their futures on the job, was enacted into law as part of the 2018-19 New York State Budget. When the program is fully implemented as expected in two years, Secure Choice will provide a convenient way for people to save at work - and continue saving even if they change jobs.
What is the "Secure Choice Savings Program"?
A new, voluntary workplace retirement savings program to help working New Yorkers save for their future – and choose how they live as they age.
Secure Choice will give private companies that don't currently provide their employees a retirement savings plan the option to offer their workers a payroll-deduction Individual Retirement Account.
The program, to be overseen by the state, will be professionally managed by a private investment firm and will be voluntary for both employers and employees.
It will offer businesses a convenient, low-cost tool to attract and retain employees and workers an easy and effective way to save - and to continue saving if they change jobs because their IRA will be portable.
What does the program mean for New Yorkers?
The chance for potentially millions of working New Yorkers to save through payroll-deduction – the easiest and most effective way to save.
Over half of private sector workers in New York State – more than 3.5 million working New Yorkers - have no access to a retirement savings plan at work, which creates a significant barrier toward saving for the future. Over two-thirds of Hispanic New Yorkers working in the private sector lack such access, as do more than 60 percent of Asian Americans and 52 percent of African Americans.
Americans are 15 times likelier to save if they can do so at work - and about 90 percent of workers save if they can do so through automatic payroll-deduction.
Governor Andrew Cuomo and the New York state Legislature showed vision in proposing and enacting this game-changing program, which will help correct disparities in New Yorkers' retirement savings – especially within communities of color ( see pages 7-15 here for the language of the Secure Choice law) .
When will the program be available?
The law allows the state two years to create an oversight board to develop rules and regulations for the program, with the option for a third year if needed.
Secure Choice should be available to interested businesses and their employees by April 2020.
For more information about retirement savings and tools, visit www.aarp.org/money