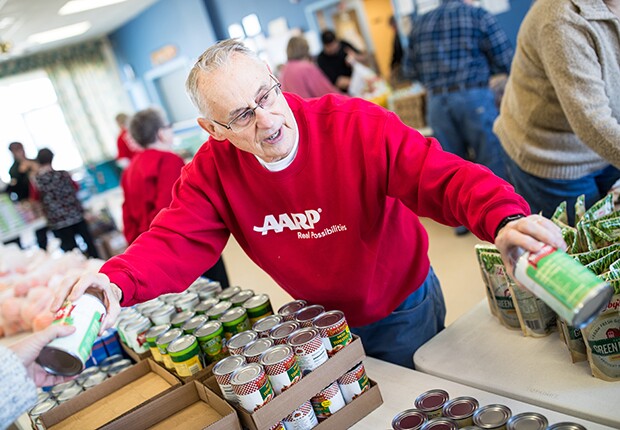 Por James Odato

Ron Rehner tuvo un largo día de trabajo como voluntario recientemente. Ayudó a grabar segmentos para Senior Notebook, el programa semanal de entrevistas a voluntarios en un canal de televisión local. Organizó un salón en una iglesia para la reunión mensual del capítulo de AARP, al cual tuvo que transportar a tres socios, además de entregar un informe.

Durante el día, Rehner, de 80 años, se puso en contacto con una red de adultos mayores en Elmira que realizan actividades. Estas actividades hacen parte de su calendario social en gran medida debido a la certificación del condado de Chemung como una comunidad amigable con las personas mayores, una prioridad de AARP para contribuir a la salud y felicidad de las poblaciones a medida que envejecen.

La certificación ha mejorado la creación de asociaciones, aumentado la conciencia sobre los programas y estimulado las mejoras, así lo afirman Rehner y otros. En su quinto año, la iniciativa del condado ha dado lugar a cambios como mejores diseños de vías y parques, y sugerencias de contratistas para reparaciones en el hogar.

Es representativo de lo que puede suceder en todo el estado. El gobernador Andrew Cuomo (D) ha hecho un llamado a Nueva York para que se convierta en el primer estado en ser amigable con las personas mayores, siguiendo el modelo de AARP y la Organización Mundial de la Salud (OMS). Ya hay 16 comunidades de Nueva York que cuentan con la certificación.

"Las comunidades designadas como amigables con las personas mayores ofrecen conexiones sociales y proporcionan oportunidades significativas de voluntariado", afirmó Cuomo. El gobernador dio la orden a las agencias estatales de adoptar un enfoque llamado "Salud en todas las políticas".

Prácticamente, la puesta en marcha a nivel estatal ya comenzó. Este año, se instó a los solicitantes de subvenciones estatales a dar prioridad a los servicios para los adultos mayores en sus propuestas de cómo usar los fondos. Los planes para bancas, senderos y mejor iluminación, así como información sobre nutrición y vivienda asequible, pueden ayudar a las comunidades a recibir una parte de la próxima ronda de $10 millones en adjudicaciones para la revitalización del centro, explicó Greg Olsen, director en funciones de la Oficina para el Envejecimiento del estado de Nueva York.

Unos 25,000 jubilados se mudan a otro estado cada año. Los programas amigables con las personas mayores podrían ayudar a Nueva York a retener su población a medida que envejece y atraer a nuevos residentes, señaló Olsen. "Realmente queremos vender este estado como un destino para la jubilación".

Randy Hoak, subdirector estatal de AARP Nueva York, afirmó que la iniciativa de Cuomo hará que la sede del Empire State sea más habitable. "Va a resultar en buenas políticas".

Una encuesta de AARP encontró que a los neoyorquinos mayores les gustaría quedarse en el estado a medida que envejecen si se hicieran mejoras para ellos en temas de salud, vivienda, transporte y empleo. Según la encuesta, las principales necesidades son la participación cívica, el empleo y la vivienda.

En un movimiento favorable para los adultos mayores, el Consejo de la ciudad de Nueva York exigió recientemente que ciertas instalaciones de la ciudad fueran equipadas con sistemas de ayuda auditiva.


LAS EMPRESAS SE UNEN AL ESFUERZO

En el condado de Chemung, 30 empresas locales y organizaciones sin fines de lucro se han comprometido a cumplir con criterios como bajar los niveles de ruido o facilitar la accesibilidad, señaló Pam Brown, directora del Department of Aging and Long Term Care (Departamento de envejecimiento y atención a largo plazo). Estas empresas pueden exhibir la calcomanía del condado que las identifica como amigables con las personas mayores, un logotipo de ocho óvalos superpuestos; cada uno representa las prioridades de AARP y de la OMS.

"Las mejoras en calidad de vida son evidentes en una comunidad vibrante de voluntarios mayores", señaló el ejecutivo del condado Tom Santulli. "Es contagioso".

Jane B. Ginsburg, directora ejecutiva de la Coalición de capítulos de la Alzheimer's Association en el estado de Nueva York, señaló que el gobernador ha presupuestado $25 millones anuales para servicios relacionados con la enfermedad de Alzheimer.

Ella y otros directivos de la Alzheimer's Association señalan que cerca de 400,000 neoyorquinos sufren de la enfermedad, y los datos indican que las cifras aumentarán cerca de un 20% para el 2025. Tienen la esperanza de que se creen más cupos para vida asistida, fondos para servicios y capacitación para luchar contra la explotación financiera a personas mayores. Michael Burgess, exdirector de la Oficina para el Envejecimiento del estado, afirmó que los programas amigables con las personas mayores ayudan a las personas a evitar el aislamiento.

Rehner, quien enviudó recientemente, señaló que eso es lo que ha ocurrido: "Ha abierto toda una red de personas nuevas".

Infórmate cómo vivir más cómodo en tu hogar y vecindario con nuestro subcanal de Comunidades habitables.