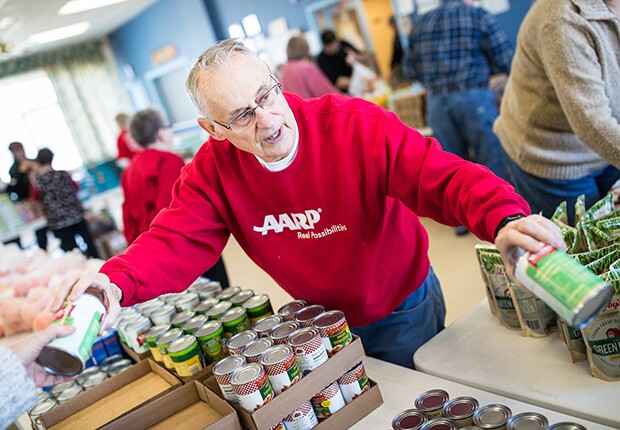 By James Odato

Ron Rehner had a busy day of volunteering recently. He helped tape segments for Senior Notebook, the weekly volunteer interview program on a local television station. He set up a church hall for the monthly AARP chapter meeting, to which he chauffeured three members and gave a report.
Throughout the day, Rehner, 80, tapped into a network of older people in Elmira doing things together. They are on his social calendar largely because of Chemung County's certification as an Age-Friendly Community, an AARP priority to contribute to the health and happiness of aging populations.
That certification has enhanced partnerships, heightened awareness of programs and spurred improvements, Rehner and others say. In its fifth year, the county's initiative has led to changes like better roadway and park designs and tips on contractors for home repairs.
It is representative of what may happen statewide. Gov. Andrew Cuomo (D) has called for New York to become the first age-friendly state by following the AARP/World Health Organization model. Already, 16 New York communities are certified.
"Communities designed as age-friendly offer social connections and provide meaningful volunteer opportunities," Cuomo said. He charged state agencies to adopt a "Health Across All Policies" approach.
The statewide rollout has essentially begun. State grant applicants this ear were urged to prioritize amenities for older people in their proposals for funding. Plans for benches, walkways and better lighting, as well as nutrition awareness and affordable housing, may help communities get a portion of the next round of $10 million in downtown revitalization awards, said Greg Olsen, acting director of the New York State Office for the Aging.
About 25,000 retirees move out of the state each year. Age-friendly programs could help New York retain its aging population and attract new residents, Olsen said. "We really want to sell this state as a retirement destination."
Randy Hoak, AARP New York associate state director, said Cuomo's initiative should make the Empire State more livable. "It is going to result in good policy."
An AARP survey found that older New Yorkers would likely stay in the state as they age if improvements were made for them in health, housing, transportation and jobs. Leading needs, the survey found, are civic participation, employment and housing.
In an age-friendly move, the New York City Council recently required that certain city facilities be equipped with assistive listening systems.

Businesses join endeavor
In Chemung County, 30 local businesses and nonprofits have signed on to meet criteria such as low noise or easy accessibility, said Pam Brown, director of the Department of Aging and Long Term Care. They get to display the county's age-friendly decal, a logo of eight overlapping ovals, each representing the priorities of AARP and WHO.
"The quality of life improvements are apparent in a vibrant older volunteer community," County Executive Tom Santulli said. "It's contagious."
Jane B. Ginsburg, executive director of the Coalition of New York State Alzheimer's Association Chapters, noted that the governor has budgeted $25 million annually for Alzheimer's-related services.
She and other Alzheimer's Association leaders point out that nearly 400,000 New Yorkers suffer from the illness and data show the ranks growing by almost 20 percent by 2025. They hope for more assisted living beds, funding for services and training to fight financial exploitation of the elderly. Michael Burgess, former director of the state Office for the Aging, said age-friendly programs help people stave off isolation.
Rehner, a recent widower, said that is what has happened: "It has opened up a whole network of other people."

James Odato is a freelance writer living in Schenectady, N.Y.