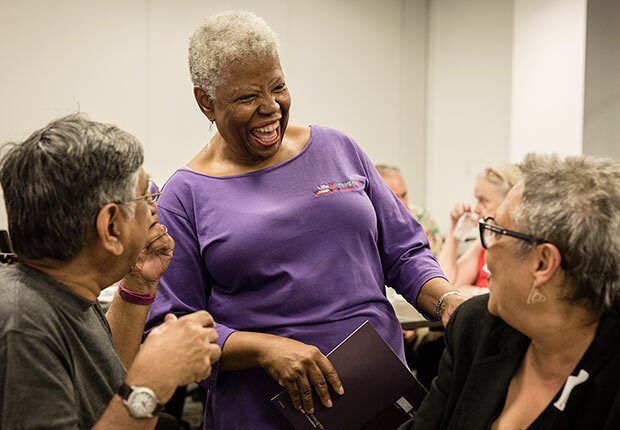 By Andrea Atkins

Leona Shuler's parents used to say, "You can't just come into this world and take, take, take. You've got to give back."

That's why Shuler, 67, a Manhattanite who retired in 1998 from a career as an office manager, keeps on giving with AARP.

Her two main activities are helping people find their "what's next" as lead volunteer coordinator in New York for Life Reimagined and helping people—most of whom are over 50—prepare and file their income tax returns through the AARP Foundation Tax-Aide program.

For the past eight years, Shuler has spent a couple of Saturdays each January reviewing IRS rules and regulations and brushing up on new tax law changes. It's worth every minute, she said, when she sees people who are happy that she has helped them.

Volunteering with AARP has opened her world. "I have friends not only in this office but other volunteers around the country," she said. "I've got friends in San Diego, Las Vegas and other places. We still keep in touch."

There are many ways for New Yorkers to volunteer with AARP. Volunteers staff events around the state and explain how people can participate in AARP initiatives such as fraud prevention, caregiving, housing, fostering livable communities and financial planning, said Jo Park, associate state director for AARP New York.

If you speak Spanish, Mandarin, Cantonese or another language, your skills may be useful to help AARP reach people whose first language is not English.

Anna Romero, 64, of Brooklyn, said she enjoys the social connections that are part of her volunteer work with AARP.

"I basically just volunteer for everything," said Romero, who retired as a vice president at a major New York bank.

"I'm a very social person. I enjoy the mixing and mingling with various cultures and people. You make a lot of friends that way," she said. "Volunteering allows me to share my life experiences, skills, knowledge and passions with many people within diversified communities."

Romero, who lives in Brooklyn, was born in Puerto Rico and has made a specialty of helping Spanish speakers.

She translates materials into Spanish and participates in AARP New York's advocacy and outreach efforts. "I go to City Council meetings and to rallies at City Hall. You get to meet officials and council members, and you also get to know the people in your community."

Using skills in a new setting
Getting to know people has always been a goal for Patrick Fox, 73, a volunteer who teaches the AARP Smart Driver course in the Rochester area. The course helps people, particularly those over 50, assess and review their driving skills to keep them safely on the road—like one man taking the class for the 10th time.

"He was 91 and still driving," Fox said. "At the end of the class, he turned around and said, 'See you in three years!' And I know he will be back. This gentleman is doing a fine job as a driver because he's made adjustments that account for his years."

Fox, a retired theology teacher who lives in Irondequoit, taught for 42 years in Catholic parishes upstate. The AARP volunteer work allows him to use his teaching skills in a new setting with a new population.

Ronni Schultz, of Port Jefferson, said she feels she is really making a difference, even though she never meets most of the people she helps.

A registered nurse who retired in 2013, Schultz, 65, handles several phone calls each week through the AARP New York Caregiving Coaching Program, a support service for those who are taking care of aging parents, spouses or other relatives. She helps them solve problems and manage crises, and provides a "listening ear" in situations that are often lonely and difficult. "I like the fact that I could reach out to my caregivers—I currently have four—from my home."

Schultz received caregiver training from AARP. Few previous volunteer experiences she's had have offered such tangible results. "It's concrete, and it's an honor and a privilege to do it," she said.

To learn more about volunteering or to become a volunteer, email Jo Park at jpark@aarp.org or call 866-227-7442 toll-free.

Andrea Atkins is a freelance writer living in Rye, N.Y.