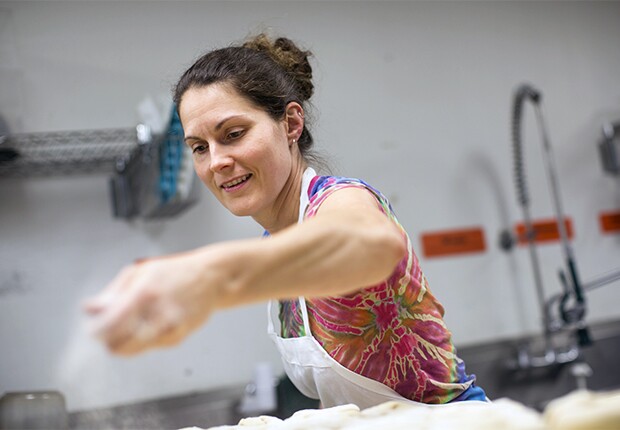 By Philip Lentz

Laura Kerrone, owner of the popular Psychedelicatessen bagel deli in downtown Troy, knows the hurdles of running a small business, including finding and keeping good employees.

That's why she supports a proposal to create a state-facilitated workplace savings option that would enable her 15 employees to have their own retirement plans.

"Corporations offer college tuition, medical and dental coverage—all these things they plop on the table that I can't offer," she said. "If there's some way I can help my employees do something at minimal or no cost to me, I want to do that."

That's why legislation to allow employers to join a state-run retirement savings plan is a top priority of AARP New York for the 2018 legislative session.

According to AARP research, 52 percent of the state's private sector employees—more than 3.5 million workers—do not have a savings plan at work, including 71 percent of employees at small businesses. And an AARP survey found that two-thirds of small business owners would support creation of a state-facilitated retirement plan.

Bill Ferris, AARP New York associate state director, said such a savings plan would be similar to the 529 college savings programs offered here and in many states, including New York.

"In New York 20 years ago, the state made it easy to save for your kids," Ferris said. "We're saying do the same thing—the state should help workers save for their retirement."

Seven states have adopted some form of retirement savings program, and many more are expected to consider it this year. As with most states that have adopted a program, the emphasis in New York is on voluntary participation—for both employers and employees—and ease of administration.

Business council opposition
A previous version of the proposal, which required most businesses to offer the plan, generated opposition from the financial industry. The Business Council of New York State, in a legislative memo, said the bill would have imposed burdens on businesses and be costly to run.

It also said many employees did not take advantage of a federally run savings program that is now being closed.

Other legislative priorities for AARP New York include:

Increasing funding for state programs that support family caregivers. According to the State Office for the Aging, about 3 million family caregivers provide more than 2.6 billion hours of care to loved ones each year.
Increasing funding for caregivers has long been an AARP priority because support from family and friends is a major factor in determining whether older people can remain in their homes and out of institutional care such as nursing homes. AARP is seeking to add $25 million for such non-Medicaid services as in-home care, transportation services and Meals on Wheels. Thousands of New York residents are waiting for these services.
Helping institutions crack down on financial exploitation of older adults. The number of reported scams increased 35 percent between 2010 and 2014, according to a state study, and nearly one-third of the victims had dementia. The study estimated that financial exploitation costs victims and taxpayers up to $1.5 billion annually.
AARP New York supports legislation that would enable banks and other financial institutions to block transactions that appear fraudulent, based on state Department of Financial Services guidelines, and provide training to bank employees to identify customers with dementia.

To focus attention on the importance of caregivers, AARP New York partnered with the state Department of Health to sponsor a "summit" on Nov. 28 on the need to strengthen policies for the state's 2.6 million family caregivers.

The event--"Focus on the Future of Family Caregiving in NYS: A Summit to Drive Change"— brought together clinicians, experts, caregivers and thought leaders to propose solutions to help caregivers.

Philip Lentz is a freelance writer in New York City