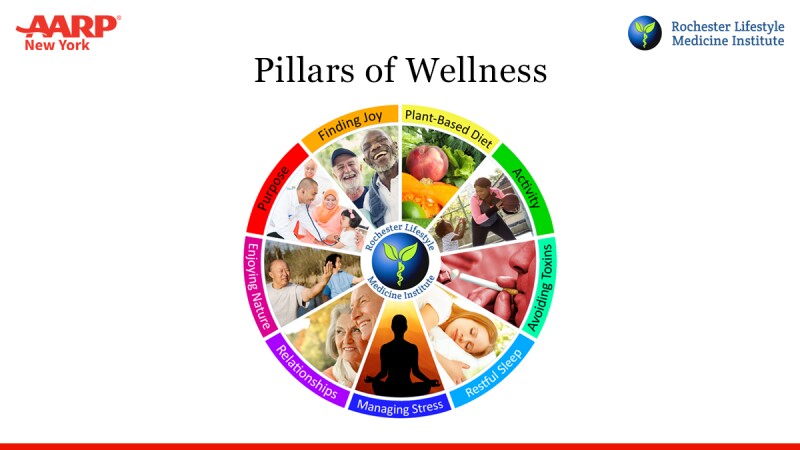 AARP NY joins Rochester Lifestyle Medicine Institute for a nine-step program to support a healthy immune system. These sessions will outline positive actions that anyone can take to help support immune function, prevent chronic disease, and lower risk of health complications.

AARP members and guests are welcome to learn tips and lifestyle habits that support healthy immune function and help to prevent, arrest, or reverse chronic disease.

In this Zoom workshop, you will learn a six-step program to support a healthy immune system with presentations by Rochester Lifestyle Medicine Institute's Doctor Ted Barnett, also known as Dr. Veggie and have the opportunity to ask questions.

Connect with us every Tuesday at 5PM for a 45-minute Zoom presentation. Register to reserve your spot!

These live webinars hosted by AARP will provide opportunities to ask questions on the recommended practices.


Session 1 - Supporting a Healthy Immune System: Diet and Nutrition - 7/20/2021
Register: https://aarp.cvent.com/immunesystem0720


Session 2 - Supporting a Healthy Immune System: Physical Activity and Movement- 7/27/2021
Register: https://aarp.cvent.com/immunesystem0727


Session 3 - Supporting a Healthy Immune System: Sleep and Sleep Habits- 8/3/2021
Register: https://aarp.cvent.com/immunesystem0803


Session 4 - Supporting a Healthy Immune System: Relaxation and Stress Reduction- 8/10/2021
Register: https://aarp.cvent.com/immunesystem0810


Session 5 - Supporting a Healthy Immune System: Relationships, Purpose, and Joy- 8/17/2021
Register: https://aarp.cvent.com/immunesystem0817


Session 6 - Supporting a Healthy Immune System: Avoiding Toxins- 8/24/2021
Register: https://aarp.cvent.com/immunesystem0824

We look forward to seeing you virtually in our workshops!

*This is not an AARP event. Any information you provided to the host organization will be governed by its privacy policy.