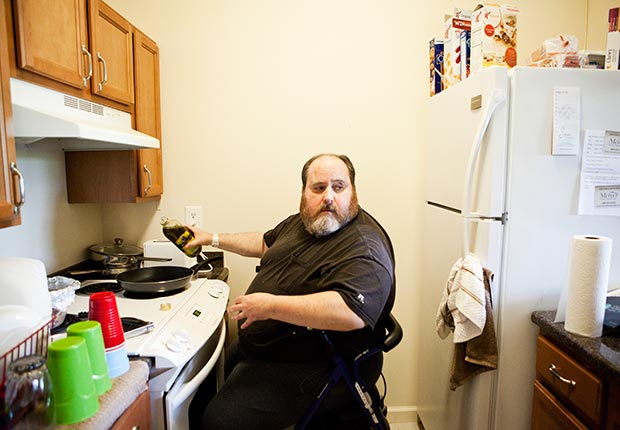 By Christina Hernandez Sherwood

Steven Sarton woke up in a nursing home a week after he suffered a stroke several years ago. Sarton, now 54, had memory loss and speech problems. He couldn't walk. He needed the help a nursing home provided, but was frustrated by such things as the communal bathroom and poor food quality.

In February, Sarton and his fiancée moved to an accessible apartment building in Ewing with the help of a Medicaid program offering home- and community-based services to recipients who are eligible for nursing home care.

Sarton feels lucky to have a private bathroom and a place to cook meals again.

"It's a godsend that we're [both] out of the nursing home and back into society," Sarton said. "It makes you feel like a human being again."

Medicaid, the federal-state health care program known statewide as NJ FamilyCare, serves 1.7 million New Jersey residents. At its 50th anniversary this month, the program continues to be vitally important to the state, said Evelyn Liebman, AARP New Jersey associate state director for advocacy.

"It is our public insurance program for low-income individuals and families," she said, "and the backbone of our long-term services and supports program."

Medicaid covers long-term nursing home care as well as home- and community-based services, like those Sarton now uses.

A decade ago, Liebman said, about 90 percent of the state's Medicaid money was used to support institutional and nursing home care. Today, that has dropped to about 70 percent—with a larger share going to home- and community-based services. Every dollar the state spends on traditional Medi­caid is matched by a dollar from the federal government.

Providing home- and community- based resources is important, Lieb­man said, because they help people live in their homes longer and potentially avoid nursing homes.

"We made some progress in that area," she said. "We believe it's an important goal to get to 50-50."

Medicaid should provide the best quality care for the lowest cost, said New Jersey Assembly Major­ity Leader Lou Greenwald (D-Voorhees). "Being able to keep people home longer in a safe environment costs less than having them spend time in a nursing home," he said.

Program's expansion
New Jersey is among 29 states and the District of Columbia to expand Medicaid under the 2010 Affordable Care Act. The state's expansion added about 465,000 people to Medicaid, including more than 112,000 ages 50 to 64.

The federal government currently pays the full cost of those who were added by the expansion, a share that will decline to 90 percent by 2020.

Even before the expansion, low-income New Jersey residents "were much more likely to have health insurance" than those of other states, said Leighton Ku, director of the Center for Health Policy Research at George Washington University.

AARP New Jersey supported Medicaid expansion by lobbying legislators and working with consumer advocates, Liebman said.

New Jersey has some of the nation's highest healthcare costs, so expanding the program would provide some relief. "Health care is difficult to afford for many New Jerseyans," Liebman said.

People 50 and older are seeing some of the greatest relief from the Medicaid expansion because they face high health insurance premiums, said Maura Collinsgru, health care program director for New Jersey Citizen Action, a nonpartisan watchdog organization. "This is an acute problem for individuals as they age," she said.

Despite progress, Liebman said, the administration of Medicaid in the state could be improved. Some potential Medicaid recipients are waiting six to 18 months for application review.

New Jersey's low Medicaid payment rates to providers are also a barrier, Collinsgru said, and access to specialists is spotty. "We hear from consumers and partners all the time about the inability of people to access specialty care," she said. "That is a concern."

No one from the state's Department of Human Services was available for an interview, said Nicole Brossoie, assistant commissioner for public affairs.

Christina Hernandez Sherwood is a writer living in Collingswood, N.J.