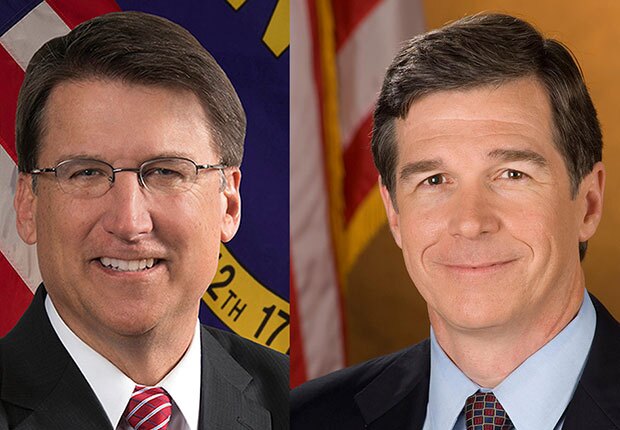 By Michelle Crouch

North Carolina voters have a critical decision to make Nov. 8 in choosing the next governor. Attorney General Roy Cooper, a Democrat, is challenging Gov. Pat McCrory, a Republican.

McCrory, 59, was mayor of Charlotte for 14 years before he was elected governor in 2012. Cooper, also 59, is from Nash County and was a member of the state legislature for 14 years before he was elected attorney general in 2000.

The Bulletin asked both campaigns about issues of interest to older voters. Their positions were drawn from their emailed responses and campaign websites.

McCrory points to economic growth and a low unemployment rate during his term, dubbing it the "Carolina Comeback." He said tax reforms he signed in 2013 helped fuel the comeback by lowering income tax rates, raising the standard deduction, eliminating the so-called death tax and closing loopholes.

The law also eliminated the deduction for medical expenses for older residents, but it was reinstated in 2015 after outcry from AARP North Carolina and voters upset about higher tax bills.

Cooper said the state under McCrory offers too many giveaways to big corporations, while many small businesses and working families have seen tax increases, sometimes disguised as fees. He said he's concerned that wages are not rising in the state.

Medicaid expansion
Cooper said that as governor, he would accept Medicaid expansion, which would extend health insurance to about 500,000 uninsured residents.

"Many Republican governors have said yes to health care for the working poor, but families in North Carolina are being left without a safety net," he said. "Medicaid expansion will not only support essential services; it will create tens of thousands of good-paying jobs, help keep rural hospitals open and help private employers keep their premiums lower."

McCrory has said he is open to North Carolina crafting its own coverage plan that might require a job or job training as a condition of eligibility, which the Obama administration opposes.

"While I have left the door open to expanding Medicaid, it is clear that Washington, D.C., is not willing to compromise and craft a North Carolina–based plan for Medicaid," McCrory said. He also said his administration has made changes to stabilize and improve the Medicaid program in the state.

Caregivers
McCrory said he understands the struggles family caregivers face because his mother had Alzheimer's disease late in life. He approved a doubling of the state budget to $500,000 for Project CARE, which pays for professional caregivers to relieve family caregivers. It also includes more slots in the Community Alternatives Program for Disabled Adults, which helps residents, including those with memory-loss issues, stay in their homes.

Cooper said he grasps the issues caregivers face because he helped support his parents in their final years. He would also boost funding for Project CARE and supports flexible job schedules for caregivers, as well as exploring ways to help people stay home and age in place. He criticized McCrory's administration for capping the number of enrollees in PACE (Program of All-Inclusive Care for the Elderly), which helps older residents stay in their homes.

Learn more about the candidates' positions later this month in the AARP North Carolina Video Voter Guide, at aarp.org/nc.

Michelle Crouch is a writer living in Charlotte.


About AARP North Carolina