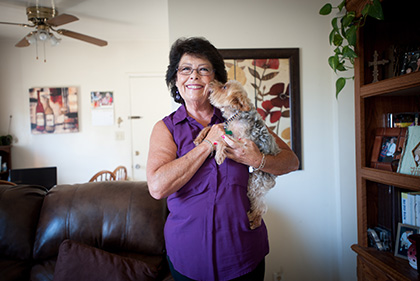 By Laura Mecoy

Pamela French loves selling. But after nearly 30 years of working in a variety of sales jobs that offered no retirement savings plan, she's reached age 65 with only Social Security to support her.

After being laid off last year, she is seeking a part-time position because her Social Security checks won't cover the cost of living in Southern California.

Nearly half of California workers are in the same situation, according to a 2011 report by the University of California, Berkeley Center for Labor Research and Education. They are headed to retirement with a projected income of less than $23,000, which is 200 percent of the U.S. poverty level for a one-person household, a commonly used threshold for economic hardship.

Help is on the way for workers. California is the first state in the nation to enact legislation to establish a voluntary retirement savings plan for private-sector workers whose employers don't offer a pension or 401(k) plan. Called the California Secure Choice Retirement Savings Program, the state-run plan still has several hurdles to clear. But it got under way this fall with the first meeting of its investment board.

Financial tsunami coming

"We established this program because there is a financial tsunami on the horizon that is going to batter tens of millions of Americans—not just in California, but across the nation—because the gap between what they have saved and what they must save is enormous," said state Sen. Kevin de León (D-Los Angeles), author of the California Secure Choice legislation.

The legislation provides for a voluntary retirement savings plan for an estimated 6.3 million California workers who don't have access to such plans through their jobs. It would require employers with five or more employees to withhold approximately 3 percent of their employees' paychecks and invest that money in a state-operated retirement program. Employees would be automatically enrolled but could opt out. Their money would be insured so they wouldn't lose their principal, and their accounts would transfer from one employer to the next.

But first, the program's board must determine if the plan is feasible and self-sustaining. William K. Sokol, a gubernatorial appointee to the program's investment board, said California Gov. Jerry Brown (D) wants to ensure the state, which just emerged from a decade of budget deficits, won't be liable for private-sector retirement plans.

Next, California must apply to the IRS for permission for the retirement contributions to be tax-free—as they are for pension programs—and the federal government's determination that the plan isn't considered an employment benefit plan under federal law.

Once all that is done, additional state legislation will be needed to implement the program. If all goes according to plan, the program could launch as early as 2016.


Win-win proposition

"This program will allow California workers whose employers do not offer a retirement plan to play an active role in achieving that goal for themselves with virtually no burden on employers and at no risk to taxpayers," said AARP California director Katie Hirning. "If there ever was a win-win proposition, this is it."

Aleisha Gore, 38, a Burbank office manager, looks forward to a retirement savings program. She said she could easily set aside 3 percent a month, if her employer withheld it from her paychecks and insurance protected her principal.

"This program would be very helpful," Gore said. "It's like compulsory savings, and that's what I need."

To keep up-to-date on the development of Secure Choice, register for the California State Treasurer's website and subscribe to the mailing list.

To contact the investment board, email gboyken@treasurer.ca.gov.

Laura Mecoy is a writer based in Manhattan Beach, Calif.