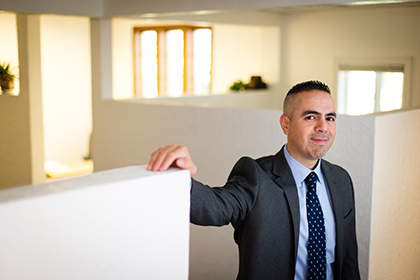 By Lynne Terry

As the head of a real estate office in Salem, Jose Gonzalez wanted to help his fellow independent agents save for retirement. They shared office resources, so why not a pooled retirement plan?
"Nothing fit us," Gonzalez said. "Either too large of an amount was needed from the outset, or the monthly commitment was too big. Some agents don't make a dollar for months."
Gonzalez, 38, is not alone in lacking a job-based savings option for retirement. According to the Economic Policy Institute, nearly half of all working Oregonians between 25 and 64 are not covered by a retirement plan through their employer.
Even worse: One in six Oregonians ages 45 to 64 has less than $5,000 in a retirement savings account, according to a recent AARP Oregon survey released in June. Financial advisers usually suggest that, at retirement, a 65-year-old should have saved at least eight times his or her final salary.

A major crisis
"In Oregon, we see a real problem coming …and not just for baby boomers but for younger people as well," said Joyce DeMonnin, AARP Oregon outreach director.
Oregon's 60-plus population is expected to increase nearly 50 percent by 2030 to more than 1 million.
In July, legislation created a task force on the state's retirement savings problem. The bill's passage followed testimony by Gonzalez and others—and lobbying by AARP Oregon and other groups, which called for the creation of a state-sponsored personal retirement fund. Under such a plan, employees would voluntarily contribute to a retirement fund administered by the state.
Opposition came from financial and business groups concerned about the creation of a new bureaucracy that might saddle the state with more financial obligations.
"We didn't agree with the assumption that Oregonians aren't saving for retirement because of a lack of state involvement," said Portland Business Alliance spokeswoman Liza Dossick.
But the AARP survey found that 6 in 10 Oregonians support the idea of a state-run retirement savings plan.
The seven-member task force is scheduled to recommend by September 2014 ways to get more Oregonians saving for retirement. One member is state Treasurer Ted Wheeler (D); the others—including DeMonnin—were appointed by Gov. John Kitzhaber (D).
"This is a conversation that's long overdue," said James Sinks, Wheeler's spokesman. "But nobody is presupposing where this is going to end up."
Wheeler favors an option similar to the Oregon College Savings Plan, which offers tax deductions and low-fee investment options to parents for their children's education.
Sen. Lee Beyer (D-Springfield), a cosponsor of the bill, has suggested a fund portfolio managed by the Oregon Investment Council, a board that sets investment policies for the state's government employee pension fund.
"It's worth looking at," said Beyer, "but you don't want to add to the liability of the state."
AARP wants a system that's portable from job to job, has low fees, and is relatively secure and flexible, DeMonnin said. She urged the public to tell lawmakers what they support, and to share their stories with AARP Oregon by emailing oraarp@aarp.org. She also advised people to use the AARP retirement calculator at aarp.org/retirementcalculator.
"People often think they're saving enough money, and they aren't," DeMonnin said.
Lynne Terry is a writer in Portland.