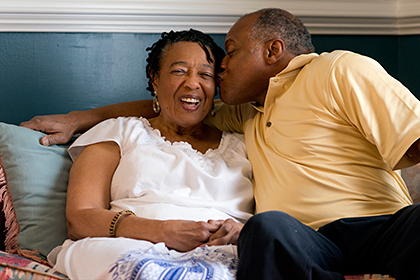 By Thomas Korosec

En español When Johnny Lewis' wife, Shirley, was diagnosed with ALS last year, the 66-year-old retired probation supervisor took on the role of caregiver. As he put it, "It's been a whole new thing."

Cooking, cleaning the house and driving Shirley to doctor appointments from their home in southeast Fort Worth have been part of the routine.

Lewis considers himself lucky to have family and friends nearby. They have helped in a pinch—such as when he had emergency eye surgery recently, and both he and his wife needed assistance getting around, shopping for groceries and attending to other daily needs.

He expects he will require more help as he is faced with choosing among home health care providers and other medical services for his wife. "You know, there's no book or manual you can consult for this," he said. "It's learn as you go."

To help people like Lewis, AARP Texas is planning to host several gatherings around the state this year to provide caregivers more information about assistance offered by local agencies and other providers.

The first caregiver meeting will be in Dallas on May 8, from 9 a.m. to 1 p.m., at Temple Emanu-El, 8500 Hillcrest Road.

Other forums are planned for Houston and the Rio Grande Valley in the fall. For more details and to register, go to states.aarp.org/caregiving.

"Ideally we'll connect caregivers with resources in their communities and help them have a better sense of what is available to them," said Amanda Fredriksen, AARP associate state director of advocacy. "We're also looking to find out if there are some unmet needs we should know about."

There are about 3.4 million people in Texas working as caregivers for spouses, parents or other relatives who are limited in their daily activities, according to a 2011 report by the AARP Public Policy Institute. The 3.2 billion hours of care given in a year was worth at least $34 billion when valued at a modest $10.35 per hour.

Nationally, unpaid adult caregiving equals about 3.2 percent of the gross domestic product, and without it, health care spending in the nation would increase astronomically, the report concludes. Fredriksen says the Texas and national figures have likely grown since the report was published.

'Keep Mom home'
In addition to nurse visits, aid to Texas caregivers includes services such as home health aides and medical supplies and equipment provided through the state-federal Medicaid program. "They're to help people with the basic activities of daily life: bathing, dressing, toileting, eating, transportation," Fredriksen said.

"It could be something like medication reminders. While state services are not typically 24-7, if you can get someone into the home, checking on Mom three hours a day, five days a week, that may be enough combined with the family in the evenings and on weekends to keep Mom home."

Community services, some provided by churches and other organizations, vary by location. They can range from help with picking up groceries to adult day care, where an older person might find activities, a meal and a health check during the day while the caregiver goes to work.

The Texas Department of Aging and Disability Services maintains a website listing community-specific services and agencies involved in respite care. It's called Take Time Texas, available at dads.state.tx.us/taketimetexas. Support groups for those taking care of people with dementia, ALS and other debilitating conditions are also a good source of referrals.

Thomas Korosec is a writer living in Dallas.

Discuss this and related caregiving topics in the Online Community.