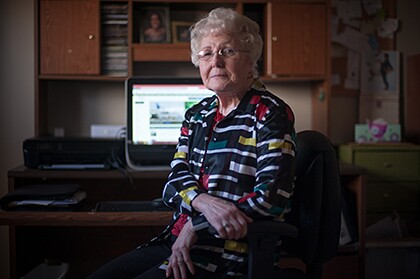 By Tracy Sutton Schorn
One evening, Jeanne Jackson, 72, of Midland, got a phone call from "Windows." The man said he had received an alert about a virus on her computer. Alarmed, Jackson began to follow the man's instructions to "remove" the virus. But then she stopped.
"It just didn't feel right," Jackson said. The man grew irritated when she refused to cooperate. "I know what you're doing!" she shouted at him. "You're a scammer!"
Jackson hung up, but the man called back several times.
Finally, she complained to the Better Business Bureau and learned that the "Windows virus" is a popular scam used to con people into paying for fake computer repair services.
Jackson was fortunate to be so savvy. The Federal Trade Commission estimates that in 2011 more than 25 million people were victims of consumer fraud, and that billions of dollars are lost each year through insurance, Medicare and investment fraud; identity theft; and online scams.
Con artists target older people in particular, said Robert Elder, communications manager of the Texas State Securities Board. They "can be more trusting and, unfortunately, more willing to listen to unscrupulous promoters," he said. People suffering from dementia, without a trusted caregiver, are especially vulnerable. "The losses can be devastating," said Elder.
Awareness as prevention
How can you protect yourself so you don't become a con's next mark? "Consumer awareness is the best prevention," said Tim Morstad, AARP Texas operations manager.
This year, the AARP Fraud Watch Network will host events in Texas featuring speakers and trained AARP volunteers demonstrating how to identify scams. These "Scam Jams" will be held in conjunction with the Texas attorney general's office, the Better Business Bureau, the Texas State Securities Board and other groups. Shredding machines will be available for destroying old bills and other identifying papers.
Members can also sign up with the AARP Fraud Watch Network to receive monthly alerts on the latest scams. Special alerts also go out when a new scam is detected nationally or locally.
Call 877-908-3360 toll-free if you have been a victim of fraud or to sign up for phone alerts. You can also subscribe online at aarp.org/fraudwatchnetwork.
In addition to providing expert advice from consumer protection groups, AARP Texas is looking for volunteers to join Fraud Watch Network trainings and presentations.
Being a victim of fraud can be a sensitive subject for many people. It's not easy to admit you were deceived, or to know what authority to contact for help. "A person is going to feel more comfortable discussing these issues with a peer," Morstad said.
Fraud Watch Network volunteers will receive extensive training on identifying types of fraud and counseling victims, as well as specific training on how to file complaints. To volunteer, call 888-687-2277 toll-free or email aarptx@aarp.org.
Tom Bauer, AARP South Austin chapter president, has spoken to community groups about Medicare fraud. The FBI estimates that 3 to 10 percent of all health care expenditures are attributed to fraud.
Scammers will "do anything to get your Social Security or Medicare number," Bauer said. Targeting seniors with telephone offers, exercise classes and high-pressure sales pitches for vitamin supplements are just a few of the scams he has seen. "There's lots of deception out there," he said.
Tracy Sutton Schorn is a writer living in Lockhart, Texas