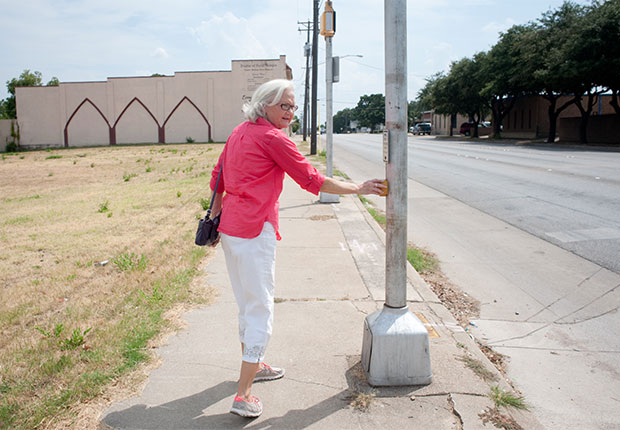 By Tracy Sutton Schorn

Walking the sidewalks of Fort Worth has given Billie Waite, 72, a different view of life in her city: "You see things from a totally different perspective when you get outside of your car."

Waite has a new appreciation for the challenges pedestrians face after participating in two AARP-sponsored " walk audits"—community-led investigations to find out whether a neighborhood's streets are pedestrian- and bike-friendly.

Waite, an AARP volunteer, recalled trouble spots: "Sidewalks that just ended suddenly, unprotected sidewalks too close to traffic, curb cuts that didn't match up, traffic lights that had no walk signal, or signals that go too fast."

For someone with a disability, a curb without a ramp could mean going out of the way to cross a street. Need extra time to cross a busy intersection? A badly timed signal could result in an accident.

"A woman in a motorized wheelchair was just hit trying to get to Target," said Eva Bonilla, 66, an AARP organizer who led a walk audit in her Linwood neighborhood last May. Bonilla said people take risks because they don't have better options.

For those without transportation, the Target store is the only grocery and pharmacy around. "People try to walk to it, but there are no sidewalks," Bonilla said.

Toll on pedestrians
Like Linwood, most communities were built for easy car access, not pedestrian safety, but such design oversights can have lethal consequences. From 2003 to 2012, a total of 47,025 pedestrians were killed across the nation—16 times as many as those who died in natural disasters, according to a report from Smart Growth America.

During that period, 4,192 pedestrians were killed in Texas. Overall, a disproportionate number of fatalities were people 65 and older, and older adults sustain more severe injuries in nonfatal accidents.

AARP is helping many communities in Texas adopt Complete Streets, which are policies backed by urban planners to ensure safe street access for all users, not just vehicles. Other features of livable, age-friendly communities include better housing and transportation options, and access to key services and community activities

Austin, Houston, Fort Worth, Dallas, San Antonio and Brownsville have joined the AARP Network of Age-Friendly Communities.

The walk audits are one way in which AARP, working with city planners, community organizations and businesses, gathers information about how to improve city streets.

"We want everyone to have a voice. AARP can provide the data," said Jessica Lemann, associate state director of outreach and advocacy at AARP Texas.

With the help of member surveys, AARP is rating communities on issues such as walkability, housing and public transportation.

In June, Fort Worth allocated $2.5 million to improve streets, sidewalks and lighting in Six Points Urban Village.

"We couldn't do this without the commitment from city leaders and elected officials. It's so important to have that commitment and open-mindedness," said Carmel Perez Snyder, an associate state director for AARP Texas.

Bonilla takes pride in the results of her walk audit. As part of a state grant to Fort Worth, the Linwood neighborhood received funds for more ramps and sidewalks, and a new subdivision will require sidewalks. Fort Worth will conduct a traffic study after a walk audit showed drivers were using Linwood as a shortcut.

"All those cars are intimidating. I want my neighborhood to be age-friendly. That's why I got involved," Bonilla said.

AARP Texas will be conducting more walk audits later this fall. To volunteer for an audit in Fort Worth, email Snyder at csnyder@aarp.org. For more about livable communities, go to aarp.org/livable.

Tracy Sutton Schorn is a writer living in Lockhart, TX.