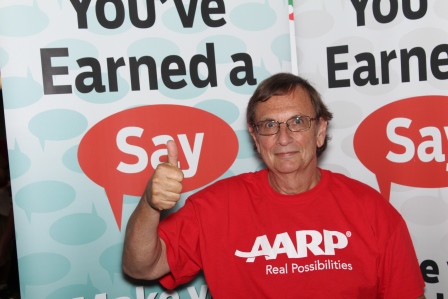 As Social Security celebrates its 78th anniversary, AARP Iowa has been traveling the state, hosting teletown hall conversations, leading community meetings and engaging with thousands of Iowans at the Iowa State Fair to hear firsthand what Iowans think about Social Security, especially in light of the budget deficit discussions in Congress.

"We've heard loud and clear - from young and old and from all corners of the state - that Iowans are counting on the benefits they've earned from a lifetime of hard work, and they expect our leaders to protect them for current and future generations," said AARP Iowa State Director Kent Sovern. "With proposals on the table in Washington like the Chained CPI that would take thousands of dollars out of Social Security benefits for Iowans, we're stepping up our efforts to ensure our leaders know where Iowans stand and help Iowans make their voices heard."

Starting today and continuing over the next 78 days, AARP Iowa is elevating the voices of Iowans and their stories and comments on Social Security. We'll be posting comments gleaned from the more than 3,400 "thought bubbles" Iowans completed at the 2013 Iowa State Fair. We'll be sharing these voices of Iowans in daily AARP Iowa Facebook and @aarpia Twitter posts.

Today's voice is from L.M. of West Des Moines: "I am currently receiving Social Security as well as Medicare, Part A. I am continuing to work because I am single and don't have enough to retire in my 401K. I am strongly opposed to any government body attempting to lower my benefits in order to pay down the nation's debt or for any other reason."

Help amplify L.M.'s voice and the voices of Iowans over the next few weeks by liking and sharing their comments through your own social networks. You can join with them and send a message with your thoughts on Social Security to President Obama and our Iowa Members of Congress.

In addition, this week, teams of AARP staff and volunteers will be delivering copies of Iowans' thought bubbles and signed petitions expressing Iowans' opinions about potential changes to Social Security to Iowa's Congressional delegation to both their Iowa offices and Washington, D.C. offices, along with a new AARP report, Social Security's Impact on the National Economy, that shows how critical Social Security is to Iowa's economy and our nation's economic prosperity.

Ninety-five percent of Iowans age 65+, or 435,929 residents receive Social Security, with an average annual benefit of $14,000. The program provides for 64 percent of the typical older Iowans' income, and makes up more than 80 percent of the income of Iowa's low and middle-income seniors. Without Social Security, an additional 40 percent of older Iowans, or 146,578 people would fall into poverty. According to AARP's new report, spending by Iowa's Social Security beneficiaries added about $13.5 billion in total economic output to the Iowa economy in 2012. The report finds the $8.3 billion paid in Social Security benefits to Iowans in 2012 also helped create or maintain more than 95,000 jobs.