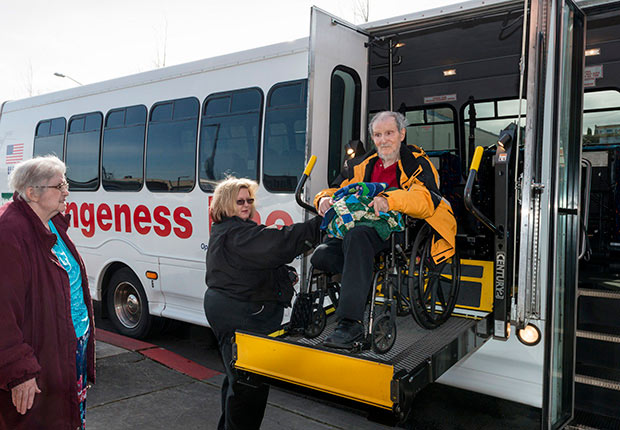 By Dana E. Neuts
Theresa Stringer, 75, and her husband, Edward, 80, of Forks, have been taking the Dungeness Line from Port Angeles to Seattle for doctors' appointments for 10 years. Edward, an amputee with Parkinson's disease, uses a wheelchair, but with the help of trained drivers and a lift-equipped bus, he is able to make the three-hour trip to Seattle safely.

Because the Stringers no longer drive, the Dungeness Line is a convenient, affordable way to travel. Instead of taking a six- to eight-hour trip with multiple connections on different city bus systems, the Stringers get help with boarding, luggage and seating. They also get to enjoy the beautiful view of Puget Sound, along with bottled water, cookies and blankets.

"We know all the drivers. They're very friendly," Theresa said. "I recommend the bus highly."

Operated by Olympic Bus Lines, the Dungeness Line transports people like the Stringers from the Olympic Peninsula to Seattle as part of the state's Travel Washington intercity bus program, which started in 2007. The line is one of four bus routes in the program. The other routes are:

The Grape Line, operated by Bellair Charters, which makes three daily round trips between Pasco and Walla Walla.
The Apple Line, operated by Northwestern Trailways, which is a 180-mile, 10-city route that runs once a day from Omak to Ellensburg and back.
The Gold Line, operated by Bellair Charters, which runs twice daily between Kettle Falls and Spokane, with multiple stops.
In addition to stopping in Washington cities, the bus routes connect with other key transit hubs and services, including Greyhound, Amtrak, Sea-Tac and Spokane airports, and the Washington State Ferries system, making it possible to go almost anywhere in the United States.

The Grape Line was the first to launch, followed by the three others, connecting Washington residents with other cities and services across the state. In 2015, nearly 30,000 trips were taken via Travel Washington, 15,345 of which were on the Dungeness Line.

Subsidies aid rural access
Each route is named for the products found in the region where it operates, and services are provided by private local bus companies that are awarded contracts through a competitive bidding process. Because each bus line is independently owned, schedules and services vary. Fares range from about $10 to $70.

"The Travel Washington program provides transportation options to seniors in rural areas who may not have a vehicle or drive on their own," said Greg Wright, community liaison for the state Department of Transportation's intercity bus program. "There are other agencies that provide on-demand transportation services to seniors, while Travel Washington provides dedicated service that helps seniors travel from rural areas to services they need in urban centers."

The Federal Transit Administration provides half the funding for Travel Washington. The other half comes from local matching money provided by Greyhound and passenger fares. Bill Brannan, general manager of the Gold Line, said the funding helped restore bus service to rural communities.

"It gives those populations a connection to services in larger cities like Spokane and to the airports, so people out of the Kettle Falls, Colville and Chewelah areas can get down to Spokane for doctors' appointments, shopping and the VA hospital and make connections with other intercity carriers," Brannan said.

Cleto Achabal, president of Northwestern Trailways, said that rather than offering just point-to-point and airport connections, the Apple Line helps passengers connect to cities along the route as well as to Greyhound and Amtrak.

For more information about the program and links to the bus route websites, which include fares and schedules, go to wsdot.wa.gov/transit/intercity.

Also check out the following video produced by the AARP Public Policy Institute.

Dana E. Neuts is a freelance writer based in Seattle, Wash.