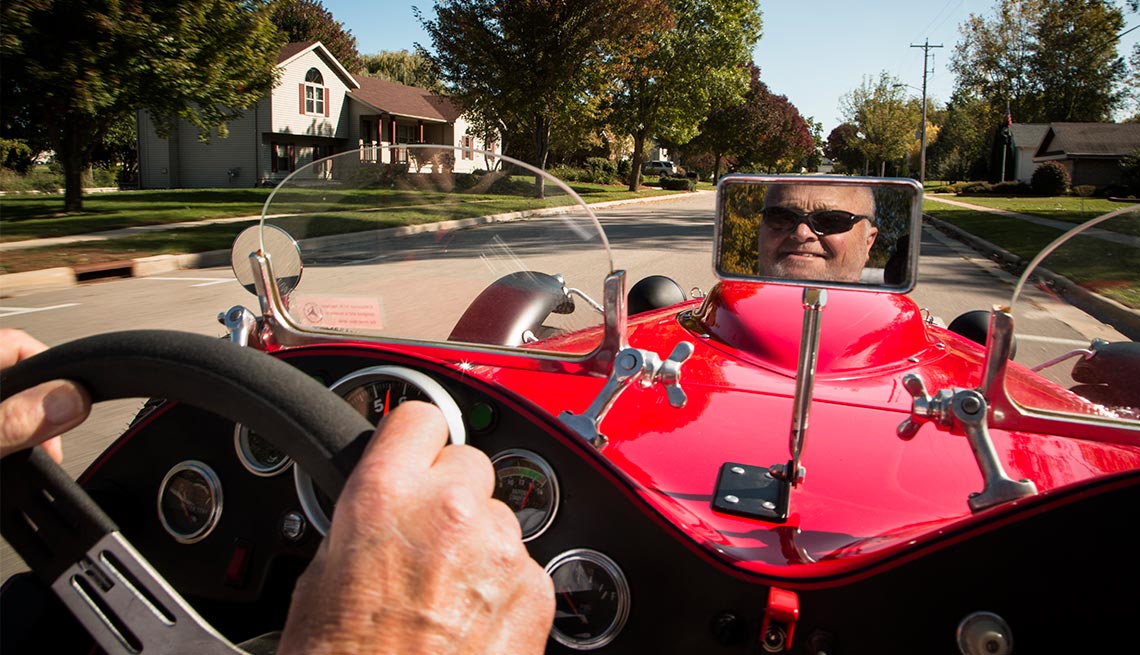 By David Lewellen

Years ago, Mel Stark approached a green light on Highway 31 in Kenosha County at about 55 mph. He had the right of way, but he remembered his father's long-ago caution: What if?

He looked right and saw nothing—then looked left and saw a Cadillac bearing down at possibly 80 mph.

"I said, 'Holy gosh!' or words to that effect," Stark recalled. He had time to brake, the Cadillac did not T-bone him, and he and his family did not become statistics among the nearly 33,000 people who die on the nation's highways every year.

Stark, 70, still shakes his head over the incident, while being thankful that careful habits pay off. It's one reason he shares his expertise as a volunteer instructor for the AARP Smart Driver course in Marshall.

The four-hour course, updated last year, gives drivers a refresher on basic skills and covers recent changes, such as more roundabouts, more advanced (and sometimes distracting) auto technology and more bike lanes. The course is focused on older drivers but is open to motorists of all ages.

Last year, 41 volunteer instructors in the state taught 2,240 people in face-to-face classes, while an additional 565 people took the online version. Some insurance companies in Wisconsin offer drivers a discount for taking the class.

"For most people, independence, quality of life and driving are synonymous," said Mariann Muzzi, associate state director for community outreach at AARP Wisconsin. To preserve that independence as long and as safely as possible, AARP offers Smart Driver and two other programs for older motorists.

CarFit is a collaboration with AAA and occupational therapists to make sure that seats, steering wheels, mirrors and other features are in the right place for each driver.

Another program, We Need to Talk, coaches caregivers and adult children on how to gently suggest that a loved one's skills are changing. It doesn't have to end in surrendering keys. The transition can be gradual, as older drivers try rides from friends, public transportation or senior ride programs. We Need to Talk also helps them form guidelines about reducing driving.

Making adjustments
Communities such as Milwaukee County, for example, offer free public transportation to those 65 and older.

Buzz Marshall, 81, a volunteer instructor in Livingston, told his grandchildren, "Tell me when you don't want to drive with me anymore." He has stopped driving at night. Marshall has led many classes on having "the talk," which can be a series of talks.

At 72, John Graber, a Smart Driver program instructor who lives in Wauwatosa, has begun making adjustments to account for age. "The important thing is to realize your limitations," he said. "I hope I live long enough to take the keys and turn them over and say, 'I'm not fit to drive anymore.'"

Graber efficiently works through the 100-page Smart Driver booklet in four hours, pausing for short video segments and to take questions. Former truck drivers are particularly knowledgeable, he said.

He offers tips of his own as he goes along: Try to wait two or three days between starting a new medication and driving. When adjusting side mirrors, "you don't really need to see the side of your car because you know where it is."

Over time, older drivers' reaction time will probably slow from 1 second to 1.25 or 1.5 seconds. In a skid, steer in the direction you want to go—a change in recommendations from past decades.

Leaving Graber's class, Vivian Haefs, 77, said, "I'm thankful someone offers this course. It improves our driving skills and gives us some confidence."

"It's a good thing for people in our age group, or any age group," Graber said. "We can't control other drivers, but we can control ourselves."

The classroom course costs $15 for members and $20 for nonmembers; the online course costs $17.95 for members and $21.95 for nonmembers. To find a class, or to learn more about becoming a volunteer instructor, go to aarp.org/drive or call 877-846-3299.

David Lewellen is a writer living in Glendale, WI.