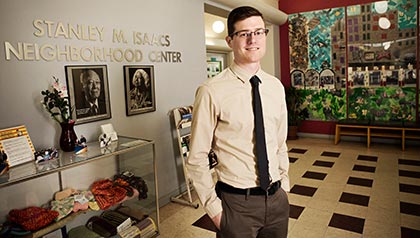 By Ann Levin

In upper Manhattan, at the Stanley M. Isaacs Neighborhood Center, a brightly colored bulletin board asks: "Am I eligible for food stamps?"

Underneath, posters in Spanish and English encourage visitors to apply.

One of the center's regulars is Virginia Santana, 68, who lives in the neighborhood. She started getting food assistance last year after hip replacement surgery by enrolling in the Supplemental Nutrition Assistance Program (SNAP), formerly called food stamps.

"It has absolutely made a difference in my life," said Santana.

One-fourth of New Yorkers 60 and older who live independently face the threat of hunger, with many forced to choose between paying for medicine or food. Yet only about half of eligible older New Yorkers receive help through SNAP. Individuals with a monthly income of $1,862 or less—couples below $2,522—are eligible.

Unlike the old food stamps, SNAP benefits are issued on a debit-style card that can be used at participating grocery stores, convenience stores and some farmers markets.

Aaron Rooney, a social worker at the Isaacs Center, said the center helps people determine if they're eligible for SNAP. But applying is a problem for many older New Yorkers, particularly those with cognitive and physical difficulties. The form is six pages, and applicants have to submit additional documents to prove their identity, income and expenses.

Streamline the process

"That's a big reason why our work is so important," said Christine Deska, an AARP New York senior program specialist.

"Older adults generally have to provide more paperwork than they realize in order to adequately fill out the application, and it can be confusing [determining] what can be considered an allowable expense," Deska said.

AARP and other consumer groups are urging the state to simplify the application, as Alabama did several years ago, when it introduced a two-page form for older households.

That effort for a simpler application is one of several that grew out of a summit last fall to improve nutrition for older New Yorkers, with an eye toward reducing health care costs and helping people age at home. AARP New York, AARP Foundation (the organization's charitable arm) and about 100 organizations and state agencies participated in the summit.

An earlier summit, in 2010, produced major results: The food stamp program's fingerprinting requirement was dropped, and the program's name was changed in New York to SNAP—part of an ongoing effort to remove the stigma around the program, which some equate with welfare.

"This is a sensitive issue for older Americans, who are a very proud group," said David Irwin, AARP New York communications director. "They're not looking for assistance."

Linda Bopp, executive director of Hunger Solutions New York, a statewide private, not-for-profit agency based in Albany that manages the Nutrition Outreach and Education Program (NOEP) for the state, encourages older New Yorkers to think of SNAP as they would Social Security and Medicare.

"If you're eligible and you meet the criteria, you get the benefit," Bopp said. "You're not taking anything away from anyone else. … That really holds a lot of people back, and it's not accurate."

Summit's ambitious goals

The latest summit set other ambitious goals that AARP New York supports, including translating the SNAP application into more than the current seven languages, and getting state agencies to share information so that those who already receive a benefit such as home heating assistance can be qualified for SNAP benefits.

The $16 minimum monthly benefit is cited as one reason for the low participation rate. But that is the minimum. In reality, outreach workers point out, the average eligible New Yorker gets about $150 per month.

Go to FoodHelpNY.org for more information.

Ann Levin is a freelance writer living in New York City.