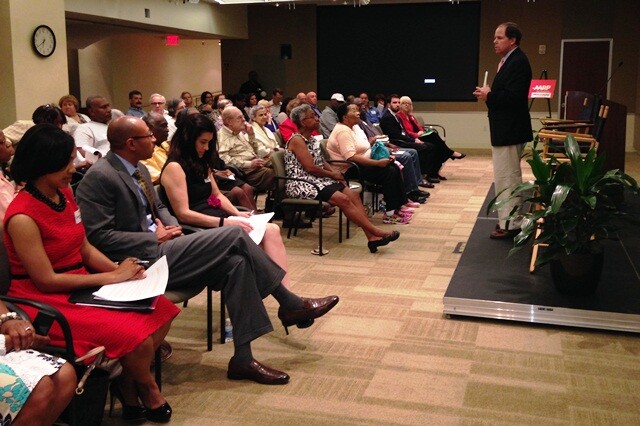 "We want people to understand that if they want to have a happy retirement they need to be happy before they stop working," said Kelvin Boston in opening the recent AARP DC financial security seminar "Joyful Retirement: Planning for your Future" that was offered at AARP headquarters. Boston, was the seminar moderator and host for the public television program "Moneywise." Boston further stated, "A lot of us think that we have to acquire things and reach certain goals and after we do that we're going to be happy but the research shows that you have to be happy before you reach those things."
Inspirational music opened the workshop, offering a different start to approaching financial security empowerment. Doreen Vail, a guest vocalist on Boston's Moneywise Empowerment Tour, sang the lyrics, "My heart knows but my mind can't conceive," She encouraged those in attendance to repeat the phrase, which comes from Vail's personal experience of changing directions mid-career from being in occupational therapy to becoming a singer. She listened to her heart. The message of the song was relevant "because as we enter retirement you're starting a new phase of life and something brand new."
The seminar's opening remarks from AARP Senior Vice President, Campaigns John Hishta emphasized why AARP is committed to making available resources that lead to good financial decisions. Hishta emphasized that AARP is committed to keeping Social Security strong.
The free Financial Security workshop focused on planning and budgeting, how to benefit from Social Security, 401(k) and Individual Retirement Plans, and safe investment options from certified financial planners and other experts in the field. Boston introduced a distinguished speaker panel of certified financial planners from the AARP Education & Outreach (E&O) Financial Security Team's partnership with the Certified Financial Planners CFP ® Board. There also were speakers from WISER-the Women's Institute for a Secure Retirement. Speakers offered unique insights into retirement planning and answered questions from the audience, who expressed special interest in benefit strategies for Social Security and annuity instruments.
During the seminar, the panel of experts gave an eye-opening statistic stating that in 2015, 45 percent of Americans will be over the age of 50. This factoid helped the audience better understand why taking charge of finances needs to occur sooner vs. later.
Henry Jackson, a counselor and psychologist at the VA Medical Center, has been doing his homework by first, getting information from AARP, the Magazine and from AARP's website. Then he talked with getting his HR department about how much he would receive in his future Social Security check. "I'm a long way from retirement but I found out that if you work longer and you don't need benefits at age 62, that the amount you receive doubles by the time you reach 70½."
Boston and the panelists kept emphasizing that people are living longer and they need to make smarter decisions about how they're going to maximize their quality of life beyond the working experience.
Kenneth Stewart, an elevator mechanic in D.C., pointed out that "time is money" and that applies to all aspects of saving and investing. The longer you live, the more money you'll need.
"A lot of people had way more money and it still didn't last. They weren't smart about their money." During "Joyful Retirement," Stewart learned more about financial planning and had his questions answered about annuities that guarantee lifetime benefits.
In fact, questions about annuities were in abundance, so AARP DC is planning a follow-on seminar focused solely on annuities that will be scheduled for September.
The overarching message was loud and clear – a successful retirement is based on working with professional financial planners, developing a customized plan, and achieving a lifetime income … so start planning now!
This post was co-written by AARP DC volunteers Rocci Fisch and Debbie Jeffers