AARPNY Disrupt Disparities 2.0 Video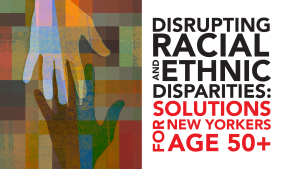 New York State has long been home to some of the most ethnically diverse neighborhoods in the nation. New York's ethnic communities—primarily comprised of African American/Black, Asian American/Pacific Islander and Hispanic/Latino populations are not only growing, but also aging at a rapid pace. Given these changing demographics, AARP is partnering with thought leaders, elected officials and leading organizations that serve New York's ethnic communities in a multi-year effort to identify disparities that exist among their ethnic 50-plus communities and fight for solutions to disrupt these disparities. AARP's purpose has always been to empower people to choose how to live as they age.

Through a societal movement called Disrupt Aging, AARP encourages all to challenge outdated beliefs and spark new solutions to facilitate peoples' choices. However, key disparities that exist in the areas of health, economic security and livability among 50-plus New Yorkers of color create inequalities that can limit or even impede their choices.

On January 24, 2018, AARP New York, the Asian American Federation , the Hispanic Federation , the NAACP and the Urban League released a series of policy briefs highlighting disparities in health, economic security, and livability in: AARP: Disrupt Disparities - English, AARP: Disrupt Disparities - Spanish , and AARP - Disrupt Disparities - Chinese.

AARP New York is also partnering with the Rockefeller Institute of Government to dig deeper into disparities and develop additional solutions, and in early 2019 commissioned a new report on the aging of New York by the Center for an Urban Future. AARP and our partner groups have shed a light on the disparities in communities of color.

Until now, few, if any, proposed solutions have led to the necessary policy changes to address these disparities; nor have they focused on New York's 50-plus population. But AARP and partners have made significant progress since January 2018, including:

- Enactment of the NYS Secure Choice program, which will allow private sector employers to offer their employees the chance to open individual retirement accounts with low-cost options through payroll deduction.

- An historic $15 million increase in funding for non-Medicaid home and community based services for the elderly in the 2019-20 state budget. These services, which include transportation to medical appointments and help with bathing, dressing and other daily activities, help relieve the burden on family caregivers and allow older New Yorkers to remain at home longer – where the vast majority want to be. National studies have shown that Americans of color have been moving to nursing homes – the majority of which are paid for by taxpayers - at an increasing rate while the percentage of whites moving to nursing homes has declined.

- $20 million in the 2019-20 state budget for housing and legal services for vulnerable homeowners fighting foreclosure, deed theft, and other challenges that threaten to displace them from their homes, replacing funding from bank settlements that ran out at the end of March 2019.

- The strongest rent regulation laws in the nation, signed in the spring of 2019.- A ban on discrimination against any lawful source of income, such as Social Security checks, to pay for housing.

- Funding in the 2019-20 state budget for elder abuse prevention.

- Funding in the 2019-20 state budget for Kincare programs that help non-parent relatives raising children.

- Legislative passage of a bill making it easier for eligible children to receive a public assistance non-parent grant (the bill still needs the Governor's approval).

- Legislative passage of a bill to create an independent utility consumer advocate with the power to challenge unfair rate hikes in court (the bill still needs the Governor's approval).

There is much more to be done, and that is where YOU come in. We are looking to hear from you on additional policy solutions to help close the gaps that exist in communities of color. It is our goal that these solutions be put into action to help all communities enjoy the same stability and equal footing, thus offering more choices for how and where all New Yorkers live as they age. Share your thoughts and solutions with us by email at nyaarp@aarp.org. The conversation doesn't end here. AARP and our partner groups will continue taking these briefings around New York State where we will engage with legislators, journalists, and key policy influencers.


Disrupt Disparities 2.0 Wrap-Up
Updates for Disrupt Disparities 2.0 - January 30, 2020

Older New Yorkers of color are more threatened by gentrification, more likely to skip prescription medications because of cost, more burdened by utility bills, and more financially squeezed by the responsibilities of family caregiving than older White New Yorkers.

That's the takeaway from "Disrupt Disparities 2.0," the second phase of a multi-year initiative by AARP New York, the Asian American Federation, the Hispanic Federation, the NAACP of New York and the New York Urban League, examines disparities impacting New Yorkers of color 50+ in the areas of health, economic security and livability.

AARP and its partner groups released Disrupt Disparities 2.0, a conglomeration of research into gentrification, prescription drug affordability, and family caregiving and utility costs, at a media luncheon today at the Yale Club featuring Assembly Members Yu-Line Niou and Robert Rodriguez of Manhattan.

"Whether it's housing, prescription drugs, utilities or caring for a loved one, older New Yorkers of color face longer odds when it comes to affordability and access," said AARP New York State Director Beth Finkel. "We've made significant progress since we launched 'Disrupt Disparities' in 2018, but 'Disrupt Disparities 2.0' shows we need to do more to level the playing field so all New Yorkers have equal opportunities."

"Most striking among the findings is the dearth of data about the Asian American community on key topics like housing, utilities and caregiving," said Asian American Federation Executive Director Jo-Ann Yoo.

"The initial Disrupt Disparities reports drove significant changes in state policies that will improve the lives of New York's Hispanic population," said Hispanic Federation President & CEO Frankie Miranda. "Together with AARP, we are excited to build on those early successes through this new research and policy ideas."

"As the heroes of the Civil Rights Movement showed us, progress comes – sometimes quickly and dramatically, but more often through tough, unglamorous, incremental policy work," said NAACP New York President Hazel Dukes. "The time to get to work is long past, and we stand proudly with AARP to support New York's 50+ people of color."

"People of color 50 and older experience stark disparities across their health, homes and neighborhoods, particularly in New York's urban centers," said New York Urban League President Arva Rice. "We are proud of what this initiative has already accomplished, and look forward to implementing more policy changes to close the gaps and ensure equality for all, regardless of race or ethnicity."

Learn more about our findings in our booklet: Disrupt Disparities 2.0

The data that we compiled on topics such as: Utilities, Gentrification, Rx and Caregiving can be found in our: Disrupt Disparities 2.0 Infographic

Additionally, you can read more on our: Racial and Ethnic Disparities in Rent-Regulated Housing for 50-Plus New Yorkers.


Resources


Press Releases:

AARP Lauds Governor for Plan to Help Millions of Middle Class NYers Save for Retirement at Work

NYS Budget Includes $15 M Increase for Home & Community Services for Older NYers – Biggest in Nearly Two Decades; Will Help Thousands Avoid Nursing Homes

NY's Communities of Color Have Less Access to Retirement Savings, Banks, Pay More for Caregiving, Housing; AARP, Partners Launch Policy Solutions Agenda

Major Step for Utility Consumers as Lawmakers Give Final Passage to Bill Creating Independent Advocate

New Rent Laws Protect, Preserve Affordable Housing to Keep NYS Livable for Older Residents

Retirement Un-Readiness: New Report Warns of 'Downward Mobility' for NY Near-Retirees

High Medical and Caregiving Costs, Poor Transportation Options Plague Buffalo's 50+ Communities of Color

Hispanic/Latinos Lag in Income, Bank Accounts, Healthcare Access; Hostos Event Eyes Solutions

Fewer Bank Branches and Mortgages, Higher Housing Costs, Debt and Foreclosure Risk Plague Long Island's 50+ Communities of Color

AARP: Secure Choice Will Help NYers Save at Work, Close Growing Retirement Savings Gap

100K+ NYers Face Potential Foreclosure Every Year; Advocates Urge Senate to Pass Consumer Protection Bill

Note: this bill passed the NYS Legislature in June 2019 and will go to the Governor.

In the News:

Sing Tao Daily
Sinovision
China Press
World Journal
World Journal (additional coverage)
DWnews.com
The Indian Panorama
El Diario
Telemundo
Univision
Harlem News
Carib News
Telemundo
Sofrito
MSN
Bronx Times
NY State of Politics
Capital Tonight - Spectrum News
Buffalo News
New York Business Journal
Long Island Exchange
Spectrum News Buffalo
WBFO/NPR
Buffalo Healthy Living
Queens Latino
Spectrum News Noticias NY 1
Long Island Exchange

Social Media Influencers:
Disrupting Racial and Ethnic Disparities for New Yorkers Age 50+ via @BiculturalMama
Disrupting Racial and Ethnic Disparities - AARP NY Reveals data by Sofrito for Your Soul

Calendar: Past Events:
January 24, 2018 - Disrupt Disparities launch at the CUNY Graduate Center
February 17, 2018 - AARP at the NY State Association of Black & Puerto Rican Legislators
February 20, 2018 - AARP at the State of Black America with WBLS
March 9 - 11, 2018 - AARP at the SOMOS conference in Albany
April 1, 2018 - Secure Choice passed - New York State Executive Budget
April 1, 2018 - Telehealth passed - New York State Executive Budget (Pages 124 - 126)
April 11, 2018 - AARP at Black Women Who Lead panel at the Schomburg Center
June 21, 2018 - AARP at Asian American Federation Poverty Conference
July 31, 2018 - AARP Partnership with Little Rock play/ Disparities in talk back after show
August 2, 2018 - AARP at Statewide Conference on Livability in Syracuse/ Disparities keynote
September 6, 2018 - Disrupt Disparities Event with Hofstra's Suburban Studies Center
October 10, 2018 - East Side Listening Session at William Emslie Family YMCA (Buffalo, NY)
October 11, 2018 - West Side Listening Session at The Belle Center (Buffalo, NY)
October 25, 2018 - Disrupt Disparities Event with Hostos Community College
November 16, 2018 - Disrupt Disparities Summit in Buffalo, NY
December 6, 2018 - Disrupt Disparities in Retirement Readiness with The New School